I do love it when I come across some beautiful homemade jewelry. Let me tell you about Wishes on the wind jewelry and how you can get hold of a piece for yourself.
*****************Closed – The winner will be announced later this week*****************
I was just browsing around last week online and lately I've been browsing on various Etsy store. Wishes on the wind was one such store that caught my eyes.
Wishes on the wind is a handmade jewelry store that take inspiration from Fairy tale. It has beautiful delicate jewelry that has tiny little pieces inside. Each jewelry might have a delicate dandelions or a little forget-me-not flower.
Here is what Lana the owner and jewelry maker say of the store:
A love of nature, gardens, flowers, birds, fairies, fairy tales, trees, woodland walks, dandelions, a sprinkle of magic, a whole load of love and Wishes on the Wind was born. Wishes on the Wind jewelry is a true labour of love from the seed of thought for a new design to the finished product.

Wishes on the wind jewelry draws on the environment, using eco-friendly materials and a belief that what is pure and natural holds the most beauty.
Lana very kindly sent me one of her delicate necklace to try out, a little pendent with tiny dandelions seeds inside.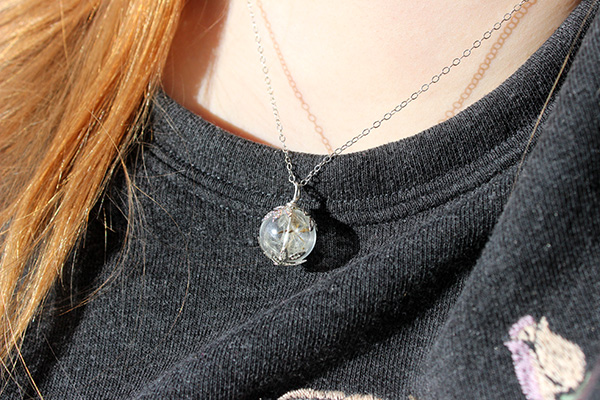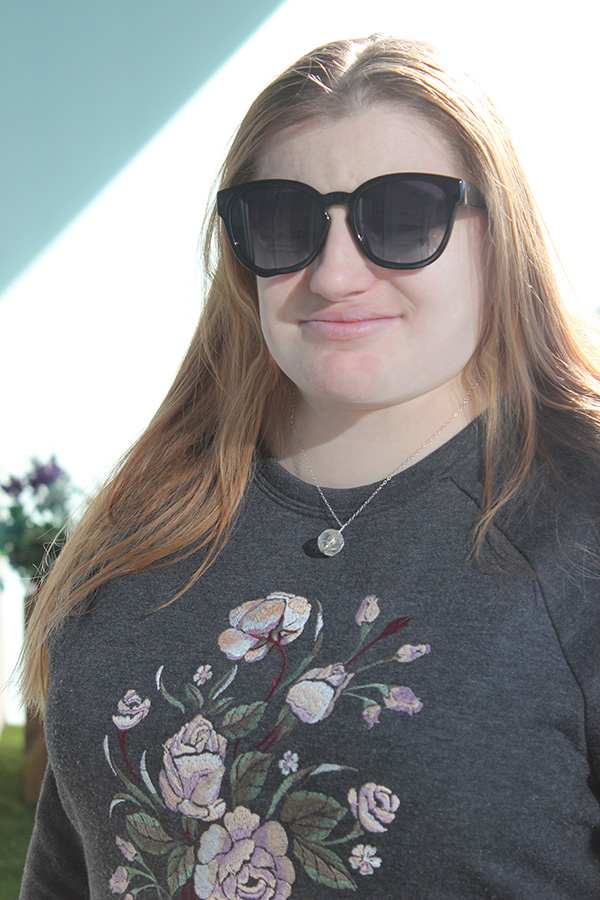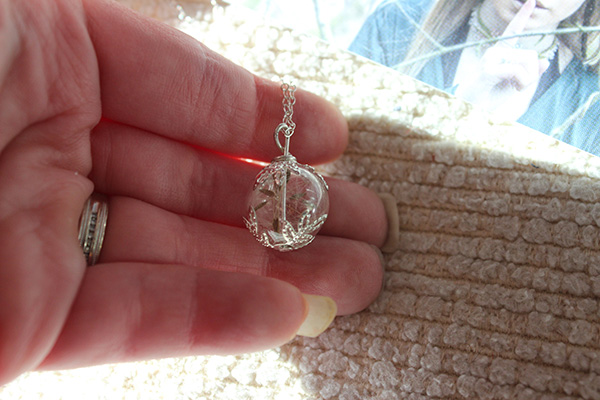 As you can see from the photos, it's a lovely little pendent necklace with dandelions seeds. When seeing this up close this is so well made and has tiny little details that you only notice when you take a closer look.
The chain itself doesn't hang low and feel sturdy enough that it won't snap off. This pendent necklace I feel just adds a little extra to an outfit. I styled it with a simple black top and trouser – but this would be a lovely jewelry piece to wear to a wedding or to a party in the park.
I'm a big fan of homemade jewelry, anyone that can produce beautiful jewelry has a rare talent. Wishes on the wind take that a little step further by producing beautiful tiny details jewelry. It something that you wouldn't see on the high street.
If you are a fan of delicate jewelry with a love of nature, then you must take a look at the Wishes on the wind jewelry shop.
And if you like the look of Wishes on the wind shop and would like to try out the same dandelions seeds pendent necklace as me – then you are in luck!
As I have one piece to giveaway. I hasn't done a giveaway on here for a very long time so it high time I do one.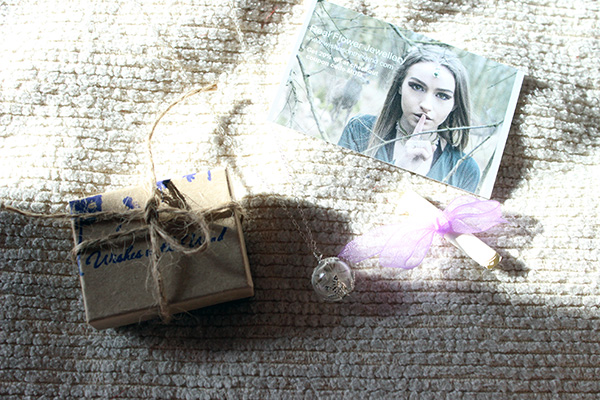 It really simple and easy to enter and you will win the same dandelions seed pendent necklace as me.
To enter all you have to do is:
– Like me on Facebook
– Follow me on Twitter
– Follow me on Bloglovin
– Follow me on Instagram
– Leave a comment on this blog post saying your name and email address.
– Retweet this post on Twitter
Term & Conditions:
– This is open to only UK residents.
– This is open to under 18, however get the homeowner permission first.
– The winner will be picked randomly; I will do a short Instagram video pulling the name out of the hat.
– I will contact the winner privately first then announced it on twitter unless the winner state otherwise.
– I will not do bribe; your name will automatically be out.
– No porn/illegal/gambling website – you will be automatically banned.
– No spamming in my comment box, you will be banned from commenting.
– This giveaway is conjunction with Wishes on the wind.
– There is no entry fee and no purchase is necessary to enter this giveaway.
– Failure to comply with any on the entries details will automatically disqualified, you must do all the entries details.
– Winner should claim their prize within 5 days or it may be redrawn.
– Closing date is 02 May 2017.
Any issue or any questions relating to this giveaway then please feel free to comments and I will answer you asap.
Good luck to everyone.
Save