Hello and welcome to my Nostalgic Series, It's a weekly series that will focus on the bygone era. The era of all things we consider vintage and old. This will look at the era between 1900-1980s, the things we can look back on with sentimental value and wonder where the good old day gone too. I will be doing shopping pages, features and I also will be using my youtube channel to do some tutorials and interviews videos. I'll be featuring vintage collectors from all walk of life, I also be running fun competitions and games for you to get involved. If you would like to get involved if you have an online vintage shop on Etsy or Ebay or know someone who will love too get involved then please feel free to email: annalisa.nuttall@gmail.com. I say more the merrier.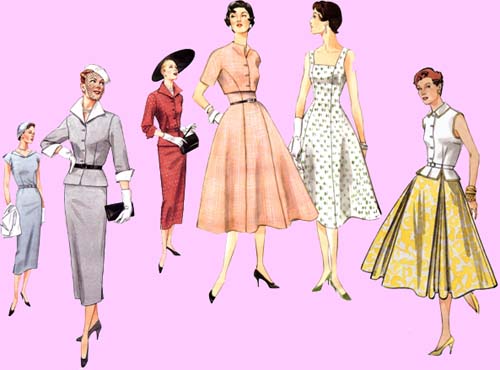 I have been writing the nostalgic series for over year now and I've yet to do my own vintage interview. Well a good friend of mine who studied at London College Of Fashion got in touch with me recently, and she wanted to know what was my thoughts on vintage fashion. This is off course opened a whole can of worm for me as I get to delve into my recollections of all thing vintage (as if I don't do that every Monday anyway), and I get to talk about *ahem* myself. Let get to it:
What decade do you class as vintage?
Hmmm interesting, I say early 1900s to 2000s. Let me put this in prospective, the 1920s was the era of flapper and Chanel fashion – right up to the 1950s where you have
Christian Dior
'new look' and how the 60s was all about swinging sixties and youth culture. Post the 1990s and that where fashion style started to go down hill and you notice how everything slowly became a copy-catish. There is more evidence when in the 2000s there was no original style and every season collection became a difference take on a past decades of fashion. From 1900 to 2000 there was a huge major shift in society and you and see that within fashion.
What is your favourite era?
I love the glamour and glitz of the 1920s era with the flapper dress and the Chanel suit ( it remind me of the jazz era) and the freedom woman have. I'm a huge 60s girl! I suppose because I seen pictures of my parents getting married in the 1960s and I love my mum wedding dress. What more can I say 60s that hasn't already been said! I love the mini skirt, twiggy, hippie culture and the new popular culture that was emerging. Just watch film such as The Boats That Rocked and you will know exactly what I mean.
Do you have any shopping tips when it comes to shopping for vintage fashion?
Yes my top 5 tips:
1) Be weary of buying anything online as often the material, the sizing is often out. I brought stuff and the stitching is undone and is falling apart. Make sure you are buying for a well-know vintage buyer who has a good reputation.
2) Don't listen to the shop-owner and make up your own mind ( remember they want your money).
3) Try on in store/shop (often place has a small changing room, if not ask if you can go in the back room) as often once you get home and try and fit it on you and it will start tearing or will not fit you. Most vintage place they won't give you a full refund.
4) investigate your garment, ask about it history and stories. Look at the stitching, will it fall apart easily? Ask how old is it? The older it is – the worse the stitching can be.
5) Haggle the price, sometime you will get the sale of the century and often you won't. But in my case people are willing to haggle you the price, just don't be disappointed if you only get a fiver off and don't angry the sale-owner as they can refuse to sell it to you.
Where are you favourite places to shop?
Topshop &
Beyond Retro
are two name that spring to mind! Topshop flag street shop has a vintage department and it is to die for. The vintage department has a lot of unknown designers and collections, all really unique and one of a kind, once it's gone – it gone for good.
Ebay
and Etsy.
Etsy.com
is an American site, similar layout to
eBay
but everything is handmade (or near enough) and it's a brilliant place to find that 1950s dress you been searching for.
Modcloth.com
– this is a fun clothes shop for vintage lover, an American site again but willing to do oversea delivering. If you just want to have something truly unique then check it out.
Now the biggie: Portobello road/market – It in the weekend when you get the clothes stall more on the main market. But during the week (go on Friday and you get a discount) down by Portobello green (near Ladbroke Grove tube station) is the vintage market. Last time I was there I picked up a 1960-70s dress for £25 and I was dead chuffed. I advise anyone to go down and have a look.
Please if you guys have anything you wish to ask me all things vintage, then please feel free to in the comment box.