I don't really do haul on here, but when I went to Paris recently, I decided to do a beauty shop in Sephora. Let me show you my Sephora Paris Haul and what goodies I brought.
I recently spent 24 hours in Paris where Richard had work to do, and I had to do some serious sightseeing. I also had to do some serious shopping, Sephora shopping to be exact.
I have heard and read so much on Sephora that I wanted to know what was all the fuss was about. My understanding was that it a huge beauty chain in the US and it does the most amazing beauty products ever. Now I have been in the US in the past, but when I was over, I didn't go into a Sephora store. And since then I have regretted not going in.
With Sephora being mainly a US store, I thought, ok next time I'm in the US I must go in and see what it is all about. But if I'm honest, I have no idea when my next trip to the US will be. So I had this thought where I thought, ok fine, I just had to miss out and never get to experience it for myself.
I did read not so long ago that if UK people wish to try out Sephora, the nearest store is in Paris. So I think you know where this is going, right?
So yes, when I had the chance to visit Paris, I use that as my excuse to visit a Sephora store finally. Which I know what you are also thinking, that kind of lame. But as I said earlier, I just wanted to know what all the fuss was about; I don't like being left behind.
Anyway, I was pleasantly surprised when I went to into the Sephora store. It was beautifully laid out when lots of lovely beauty products on displayed.
I, of course, did pick up some goodies, and this does lead into my Sephora Paris Haul. I couldn't pick up anything too chunky or heavy as I would be carrying it home. So I could only pick up small sample sizes.
Overall my Sephora shop wasn't too much, i.e., it came to an affordable total price, especially when you take into consideration with the exchange rate from UK pound to Euro.
Was it worthwhile going into a Sephora store and seeing what all the fuss is about? The answer is yes. There were beauty products from well-known brands that I have never seen before, the store was beautifully laid out, and there was a product for every need imaginable. If you're a beauty junkie like me, this is your heaven.
I think that is enough talk, and I'm sure you're just here for the goodies.  Let me show you my Sephora Paris Haul:
Left + Right:
Sephora Masque a Modeler Goji Rubber Mask.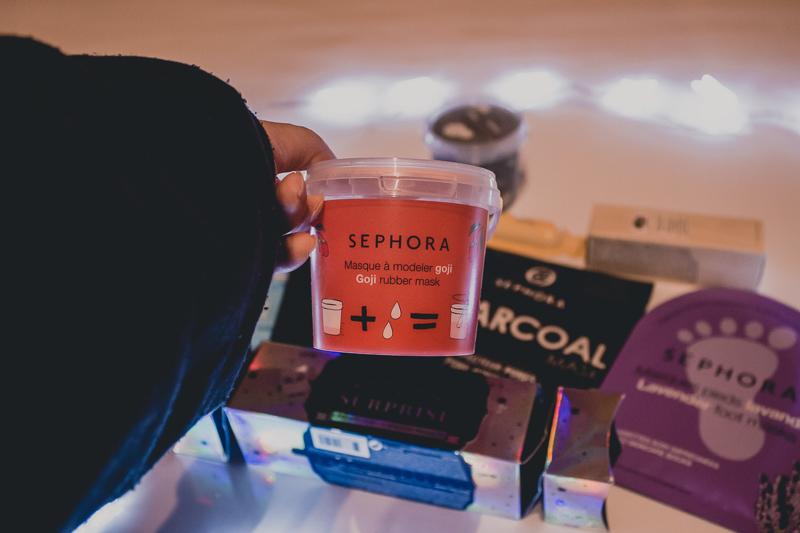 Sephora Masque a Modeler Charcoal Rubber Mask.
The idea is, this is a power mask, and you mix this with water and then put on a face.
Beach Vibe Shower Jelly.
Sephora Midnight Skincare Surprise Cracker.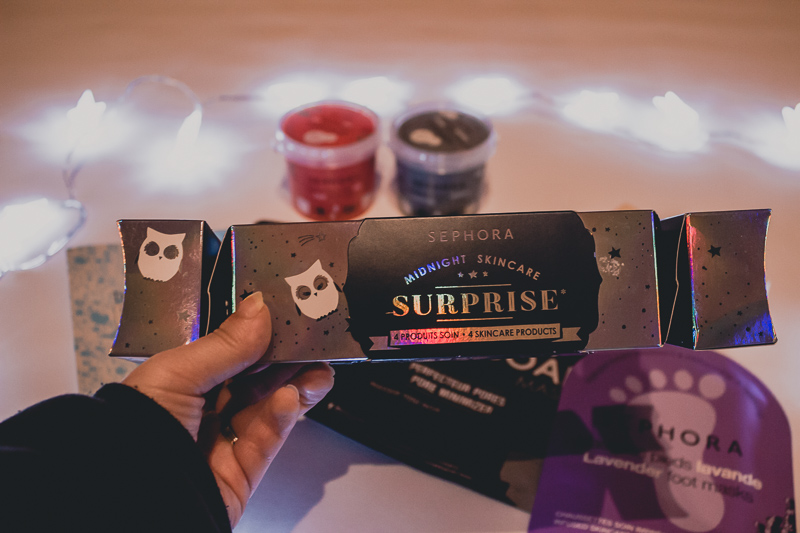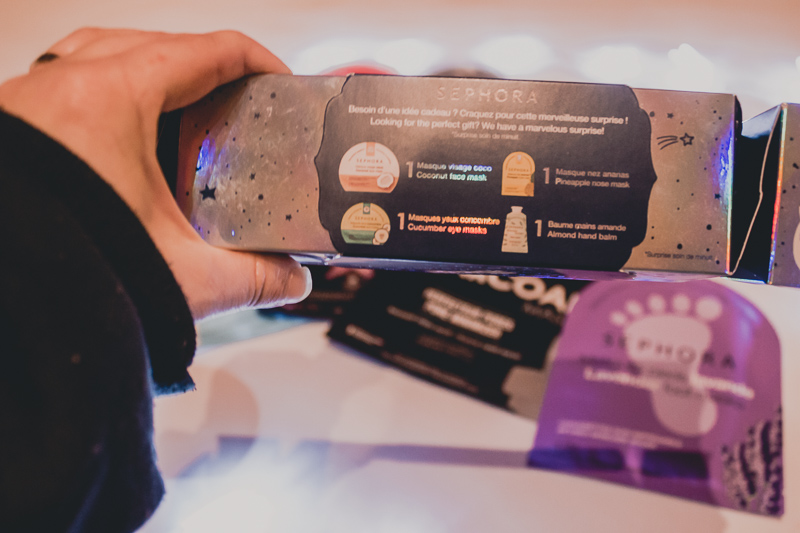 I have a feeling that this was the last of their Christmas stock. But the cracker contains four skincare products:
Coconut face mask
Pineapple face mask
Cucumber eye masks
Almond hand balm
Sephora Enchanted Sky Palette.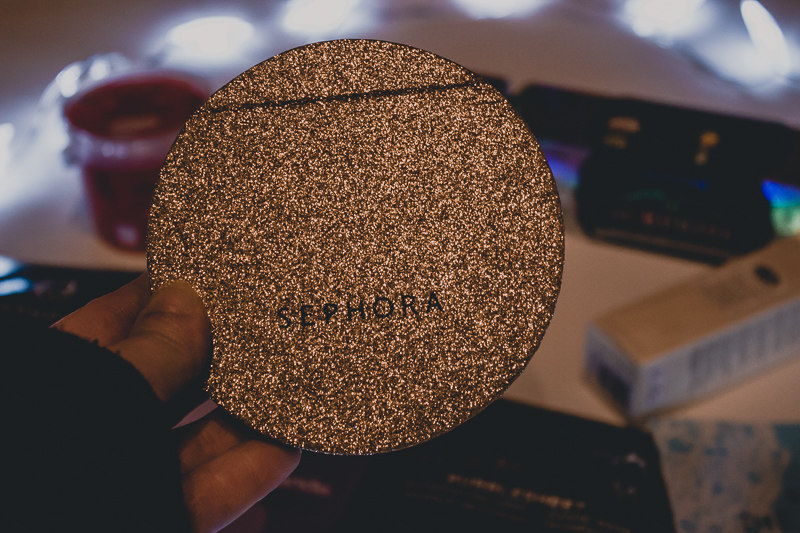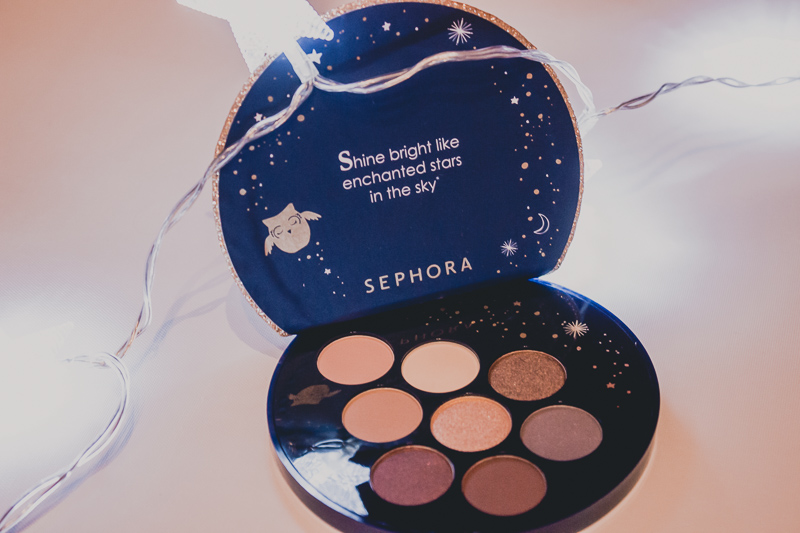 Another last of their Christmas stock.
Origins Three Part Harmony Serum.
Oil-infused serum for renewal, repair and radiance.
Sephora The Charcoal Mask.
Sephora Masques Pied Lavender Foot Mask.
Infused skincare socks
Glam Glow Bubble Sheet Deep Cleanse Mask.
Sephora The Bubble Mask Skin Detox.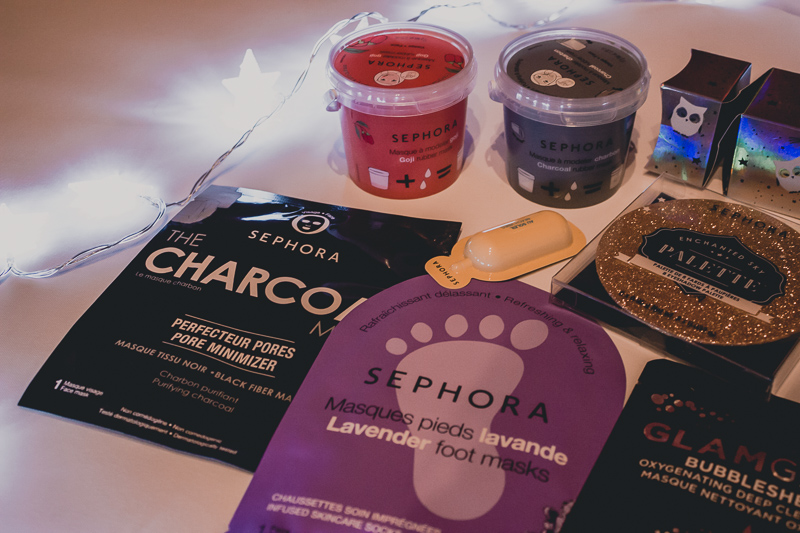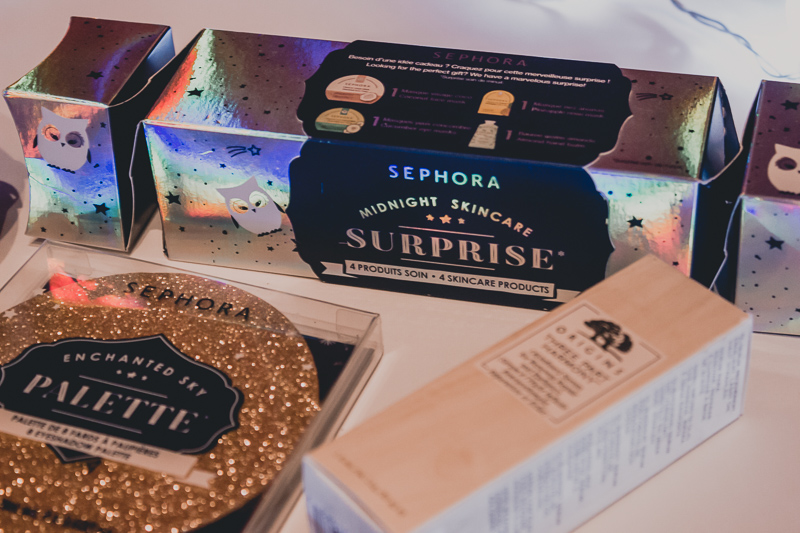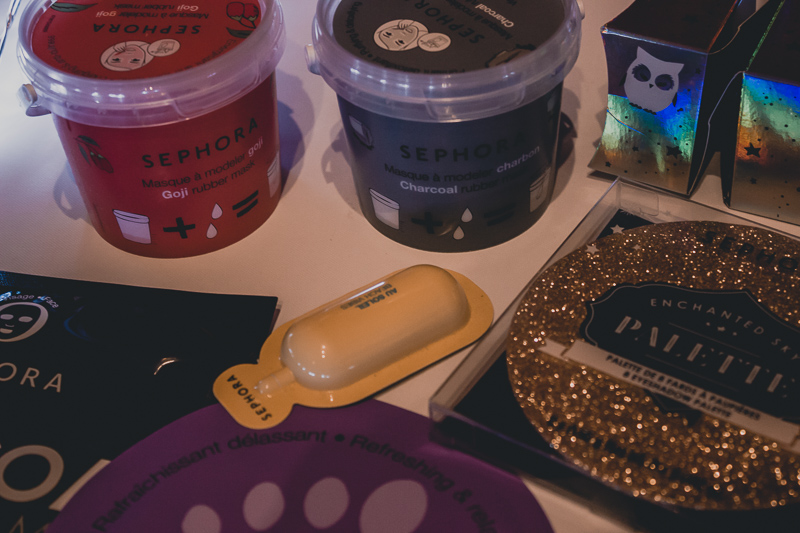 One last thing, I will be doing beauty reviews on these products over on my Instagram. So please do follow me if you would like to know how I get on with these beauty products.