If you suffer from sore achy feet, trust me I know what it like.  Suffering from sore feet sucks, it really does. This is why I'm going to tell you about the Scholl velvet smooth diamond Pedi hard skin remover.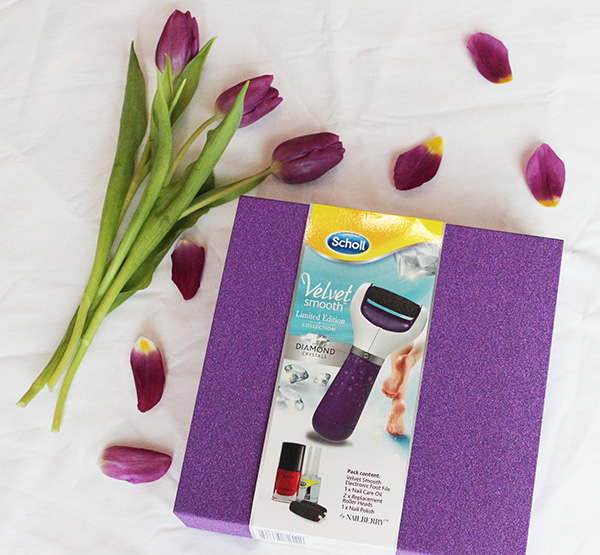 I received this kit as a Christmas present for from Richard.  I thought it was so thoughtful of him to buy this for me as my husband only know that I really suffer from poor achy feet.
With my feet I had so much problem over the years. It all started when I was working in retail and I would be standing on my feet hours upon hours', days on end. I could be on my feet for 6-7 hours' straights. Every time I would finish work for the day, my feet would have this dull burning feeling and every step was so painful to take. It felt like I had two pirate wooden peg leg and I would come home and completely collapse. My home time routine would be where I would run myself a foot bath just so my feet could feel normal again (or at least able to get some normal sensations). And then go to bed and do the whole thing all over again.
My mum who could see I was suffering with this took me to see a podiatry (it a specialist who take care of feet, ankle and the lower joint of the body), who diagnose me as having underlay pressure point hard skin. What this mean is certain pressure point of the feet such as toe or heel often don't have time to heal and would form hard skin where it will go deep into the sole of your feet skin. Basically it would feel like every step, you got a stone lodged in your feet.
The podiatry specialist told me that to combat this is to do some reflexology and to once a week clear away the hard skin. She also told me that isn't good for the feet and for the joint on the body to be standing up all day and if possible sit down for an hour to rest the joint. Easier said than done as the manager at my workplace hated me and despite my plea to sit down for an hour in the office, she would completely ignore me. So I was still left standing on my sore feet.
Despite this I was looking into how to clear away the hard skin on the sole of my feet and hoping it would take some of the pain away. I was in Boots (UK drugstore) one day and saw this electric hard skin micro-pedi remover. Just what I needed. The idea of this is like fast turning sandpaper rubbed against the hard skin to smooth it away. Like a razor but it got a sandpaper texture.
Quite naturally this worked like a dream and it helped to take away some of the pain. By that point I have had enough and I couldn't take it anymore. I was at breaking point and heading to a nervous breakdown – so I left that job. Vowing to never work in retail again!
Even after I left I would still get sore achy feet. I think the damage of standing up for all those years can never be reverse.
I would naturally still look after my feet, I go to a reflexology session and see a podiatry every 6 months.
So this bring me back to what I was saying earlier. A few months before Christmas last year my micro-pedi broke so I didn't have anything to remove the hard skin. This meant the hard skin formed and it became quite painful standing up.
Knowing I was in discomfort with my feet, he brought a replacement to my micro-pedi in the form of the Scoll Velvet Smooth Diamond Pedi Kit.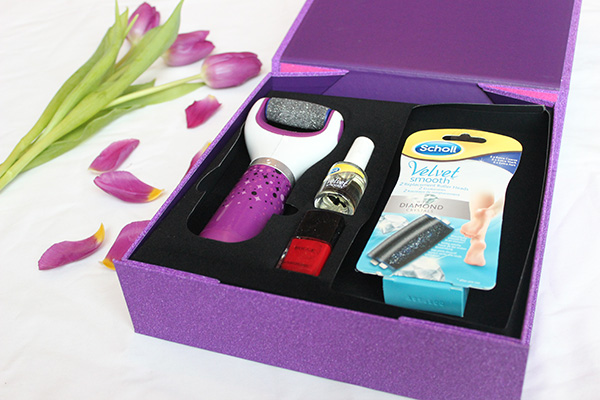 If you suffer from hard skin on the feet – you need to use this right now.
The Scholl Velvet Smooth with Diamond Crystals Extra Coarse Electronic Foot File has finely ground diamond particles which can give you soft, smooth feet in no time at all. The extra coarse roller head is suited for removing tough, hard skin. The Scholl Velvet Smooth with Diamond Crystals Extra Coarse Electronic Foot File buffs away hard skin in minutes leaving you with feet that you'll want to show off. It has an ergonomically shaped head for comfortable use.
(source)
Here is an illustration on this: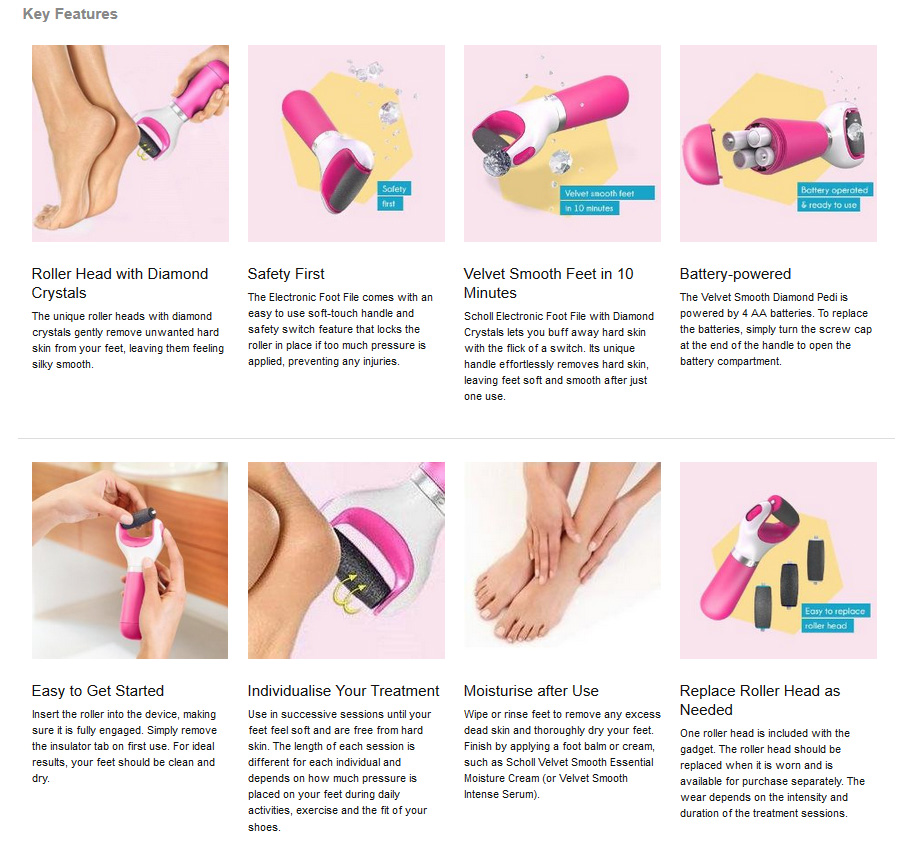 Remember me saying the micro-pedi was like a razor but got sandpaper texture? – Well this goes one step further as this is diamond crystalize. This work by going in deep to the hard skin and removing all the excess build-up.
I have tried this out and this really does work like an absolutely bloody dream. This is 10x better than the micro-pedi and the perfect solution to pressure point hard skin. After one usage it helped the sole of my feet and took away the feeling like were a stone.
The device stops working if you press down too hard, so you can't damage yourself. It's not excessively noisy, is easy to hold and to use.
My feet felt smooth and soft.  Just using this for a quick 5 minutes is all that needed and afterward you can go about your day with ease.
This specific kit was a limited edition Christmas kit and sadly not available, but you can still buy the diamond pedi remover.  It came with the Scholl velvet smooth diamond pedi hard skin remover, a spare roller head and nails polish.
Truthfully with this kit I was only interested in the Scholl velvet smooth diamond Pedi hard skin remover and the spare roller head. I never been a fan of painting my toenails.
If you like the sound of this and think it might be just what you need – then buy it today. I could see a different with my feet instantly and so can you.
(Disclosure: There are amazon affiliate links here, but this is an item  I highly recommend using. I would never put anything on this page that I personally wouldn't recommend or hasn't tried.)
www.annanuttall.com is a participant in the Amazon Services LLC Associates Program, an affiliate advertising program designed to provide a means for sites to earn advertising fees by advertising and linking to www.annanuttall.com (amazon.com).
Save
Save
Save