I'm always on the lookout for good body scrubs, so when I came across these Sanctuary Spa body scrubs; I knew I just have to try them out. Here how I got on.
I have said in the past, that when I was younger I would suffer from the dry itchy skin. The kind that drives you mad. All throughout my 20s, I suffer from red irritated dry skin.  Went to see a dermatologist and had a couple course of steroid injected into me to bring down the redness. And in all honesty, it did do the trick. What was the cause of all the sore red itchy skin? In all honesty, I suspect It was a combination of adult hormones and something chemical I must have touched.
Now I'm in my 30s, that all now a thing of the past. Thank god! My adult hormones issue seems to have cleared up and what was ever irritating my skin is no longer there. So overall my skin has no real major issue. End of story.
But, here the thing – I'm a girl in her 30s who isn't getting any younger (sob!) and have made a promise to never do Botox. So while skin is all clear and dandy, I still have to look after it. I can't just ignore it as everything on the surface look fine.
Which bring me to these Sanctuary Spa body scrubs. This is me making the effort to look after my skin and to make sure I never get the repeat of that redness dry skin.
So let jump right in.
The one thing I have found as I got older is how much I prefer body scrubs over body cream. What is the difference? Well, scrubs are better at exfoliating dead skin cells, while any creams or lotions just moisturizer and work the top layer of the skin.
Any cream or lotions, I find often don't always sink into the skin and tend to leave me feeling greasy. While on the other hand, body scrub I tend to use in the shower when my skin is damp so any greasiness can easily get washed off.
Anyway, that is why I prefer body scrub. As I love Sanctuary Spa products, I thought it was only logical to pick up these Sanctuary Spa body scrubs.
Let me tell you how I got on.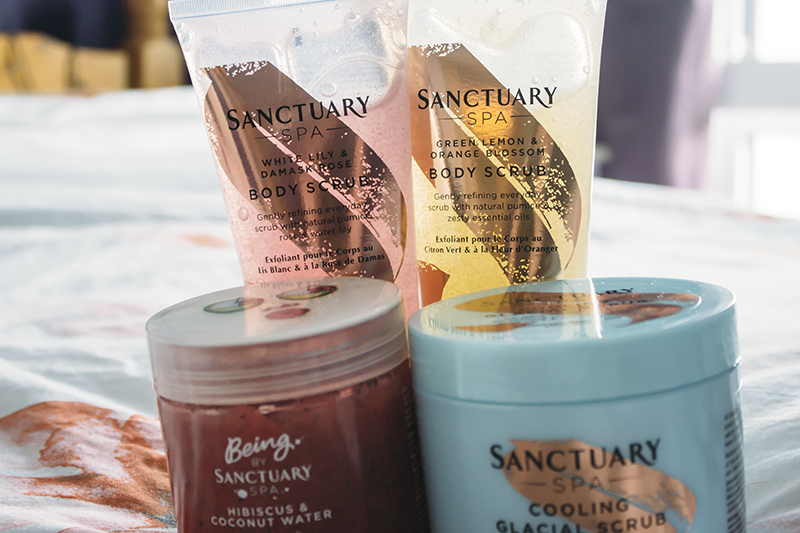 Sanctuary Spa White Lilly & Damask Rose Body Scrub
Enjoy gentle daily skin polishing with this refining & skin smoothing body cleanser. Infused with natural pumice, rose & water lily, this refreshing gel-scrub smooths & refines skin to leave it feeling silky soft & looking beautifully radiant.
I have to confess, I keep picking up this bottle and smelling it and then putting back down, as I just love the smell of this. Some might be put off by the 'perfuming' smell, but its scent reminds me of a gentle rose garden. It isn't an overpowering smell – it very gentle and doesn't linger.
This body scrub didn't feel harsh when applying and I enjoyed putting this on my skin. It lathers up nicely without it being too foamy. Afterwards, I felt it did exfoliate my skin as it felt soft and smooth to the touch.
A nice scrub when you want to get rid of dead skin cells and make your skin soft and smooth.
Sanctuary Spa Green Lemon & Orange Blossom Body Scrub
Enjoy gentle daily skin polishing with this invigorating & uplifting body cleanser. Infused with natural pumice, orange water & zesty fresh lemon oil, this refreshing gel-scrub smooths & refines skin to leave it feeling silky soft & looking beautifully radiant.
I have covered the Green Lemon & Orange Blossom range before, so I won't repeat myself too much. But in my previous review, I describe the smell as a spa in the far east. Yup, I still stand by that as the smell really make you feel you feel like you're in a spa on some far off land. It smells divine!
This gave me the same effect as the White Lily & Damask Rose body scrub. Where it got rid of my dead skin cells and made my skin smooth and soft.
Sanctuary Spa Being Hibiscus & Coconut Water Body Scrub
Serving up our fresh and tropical island favourites, a lush fusion of juicy coconut water and sweet hibiscus flower. Crammed with skin pleasing exfoliating coconut shell shavings, our smashing body scrub leaves skin soft, blissfully smooth and smelling good enough to eat.
Now, this is the first time I tried their being range, so I wasn't quite sure on what to make off it – and how it differs to just the regular Sanctuary Spa range.
This does have a smell; I detect a fruity tropical smell – yet I can't quite put my finger to it. I will say, I'm rubbish at detecting smells. Moving on, the scrub itself does look very fruity and tropical, especially as it covered in tiny little beads; this for some reason makes me think of perhaps the texture of a watermelon.
The body scrub feels a little harsh when applying and doesn't lather very well, but it really does the trick well. As it will leave your skin so soft, smooth while also hydrated. In my mind, this feels quite natural and different from other scrubs I have already tried in the past. If my skin is going through a dry patch, I will be sure to use this if I want to hydrate my skin.
Sanctuary Spa Cooling Glacial Scrub
Refresh & renew skin with this delightfully snowy scrub sensation. A cooling blend of sea salt, aloe vera & cucumber water is crushed into this icy infusion to leave skin feeling super soft, smooth & refreshed.
Now from the get-go, this scrub is thick. A lot thicker than any of the other scrubs I have used. It almost reminds me of scooping out frozen yoghurt or perhaps ice cream. Yes, that is how thick it is.
The smell is an odd one to describe, to me, it smells like perfume poured over an ice cream tub. Yes, an odd description but if you were to pour perfume all over a vanilla ice cream tub – you would get this. I will say no more as you have tried it to see what I mean.
One thing I notice when applying was it was defiantly the harshest scrub I have used. It kind of scrape across my skin like sandpaper. As I said the scrub is thick, so you need to take a good full handful to get this going on the skin. I also found this went everywhere in the shower, so you need to be aware of this.
Overall it did leave skin soft – but not over exfoliate and felt it didn't really do much. I also didn't really notice any 'cooling' effect either.
Please note: I have tried this scrub before but I suspect Sanctuary Spa might have changed the ingredients since.
Overall:
These sanctuary spa body scrubs are really nice to use. I felt they did leave my skin soft, smooth and exfoliated. I also thought these were a nice shower time pampering and I enjoyed applying them to my skin.
If you are looking for a nice body scrub, then you must pick up any of these Sanctuary Spa body scrubs as you will not be disappointed.
Which Sanctuary Spa Body Scrubs will you be trying out?
(affiliate links)