In an effort to start the week on the right foot, and to get a few pieces of fruits in me. I devised a Monday morning mocktail to help me on my way. This is the pink grapefruit and pineapple mocktail.
I don't really like fruits very much, the thing is I have such sensitive teeth that often the sharpness of the fruit stings me a little in the teeth. Also, I once bit into a rotten apple and I now have what I'm calling 'the Snow White curse', where I can't eat an apple without gagging. And often buying fruits in the supermarket, they are not very fresh and often rot by the time you get home. So yes. I don't have many fruits in my diet. Yes, I know you suppose to have 5 fruits and veg a day. But honestly, I just think that's government mumble jumble that was made post-war years to get more people eating again.
I recently signed up to Weight Watchers and with its point-based system, fruits and vegetables are complete points free. They don't count toward your dailies points. So that does mean I'm going to have to start attempting to like fruits again. Yay.
No one to start at the deep end, I came up with a simple way to easing myself back into fruits. The pink grapefruit and pineapple mocktail. Something I can drink first thing in the morning while having my breakfast.
Also, I like to think of it as a Monday morning mocktail, a way to start the week on the right foot. If you have little ones who refused to have any fruits in their diet or need a little dose of vitamin C to start off the week; then the pink grapefruit and pineapple mocktail might be what you need.
Here how to make the pink grapefruit and pineapple mocktail.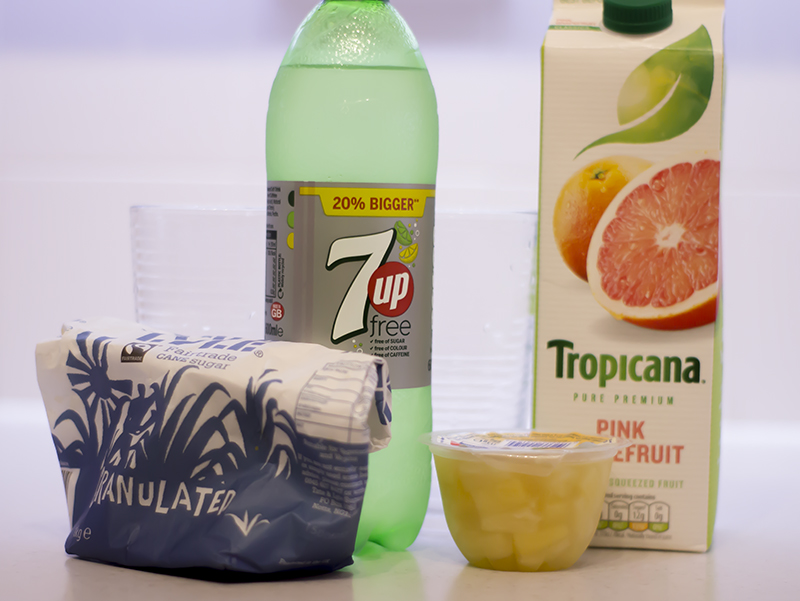 Ingredients:
A cup of pink grapefruit
½ cup of 7ups or Spirits will do
¼ cup of water
1 tbsp of sugar
Pineapple slices in juices
Ice cubes
Instructions:
Pour in the cup of pink grapefruits, 7ups, water and sugar. Then stir until the sugar dissolved.
Next put in the pineapple slices in juices and stirs again.
Finally, just add the ice cubes and you're done.
*Be Warned- that by adding sugar and 7ups, it will fizz up. *
A very simple, quick and easy thing to do. Let me know if you if you end up making this for yourself. Enjoy the pink grapefruits and pineapple mocktail.