For the past few years I have been on the hunt for a Dorothy dress. Here is my out of the day wearing what I'm hoping is the perfect Dorothy dress.
'Somewhere over the rainbow, way up high. There's a land that I've heard of once in a lullaby. Somewhere over the rainbow, skies are blue and the dreams that you dare to dream, really do come true.''
We all know where this song belongs to (you get 10 points if you name it in the comments section and who sang it, also I will give you a pretend cookie), somehow you can't help yourself and just hummed the tune while walking along.
But I like to dream that there is somewhere – in this big wide world there is that perfect Dorothy dress. You know the one from The Wizard of Oz where Dorothy wears throughout the film. A perfect light blue gingham dress that transport you to Oz, where you meet witches and munchkins.
You see for the past couple of years, I have been on the hunt for a Dorothy dress, it's a lot harder to find then you might think. I wanted to find a nice replicate of the light blue gingham dress. But everywhere is all too fancy dress and more suited for a pantomime then an actual dress.  Also I would need one that would fit my short apple figure.
Anyway last year in Primark, I was just doing my usual browsing and finding the cheapest bargains, when I came across this dress. Now my first thought was, 'Dorothy!' But then on closer inspection It look too summery for a Dorothy dress. None the less I picked it up and thought this could be a summer dress I would wear while out and doing stuff.
Fast forward to this year when my mother made her usual annual visit to my place where she moans about how messy my apartment is, and how little dusting I do. Also as usual she like to nose through my things (I don't ever do that to her thing – so why does she do it to me?), so she decided to nose through my wardrobe.
She happened to pick out that blue Primark dress which was by that point was shoved at the back of the wardrobe not being worn. Now the strange part is, she also exclaimed 'Dorothy' to the same dress. How strange is that? Like mother – like daughter.
I had to laugh at the weirdness of it all, but she insisted I try it on and to see if it a Dorothy dress. It wasn't as it more of a summer dress then one that transport you to Oz.
The dress itself has a lovely circle skirt that lets you have maximum movement and an underlay which keep everything all in place. But the bodice looks odd and doesn't quite flow with the skirt. As you will see from the pictures. Also the strap kept falling off.
So overall it wasn't the Dorothy dress of my dream. I'm tempted to throw it away but I still do like the skirt on the dress. What I might do is take it to a dress maker and turn it into just a skirt, removing the bodice. But I'm going off topic.
I shall finish by saying I'm still on the hunt for a Dorothy dress and don't be surprise if I do a couple of Dorothy dress outfit pictures. If only there was magic red shoes where I can tap together and all my wishes comes true.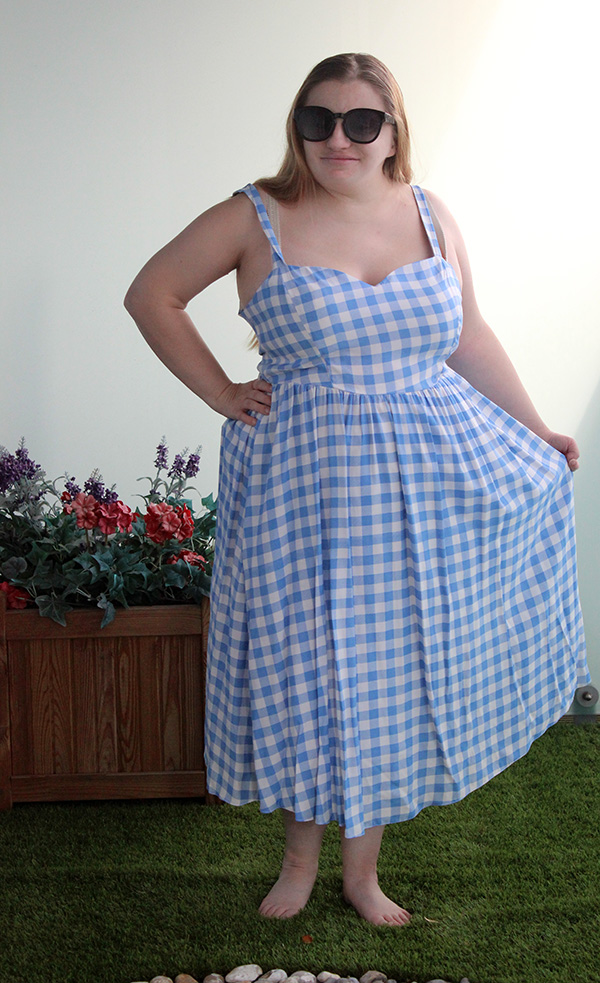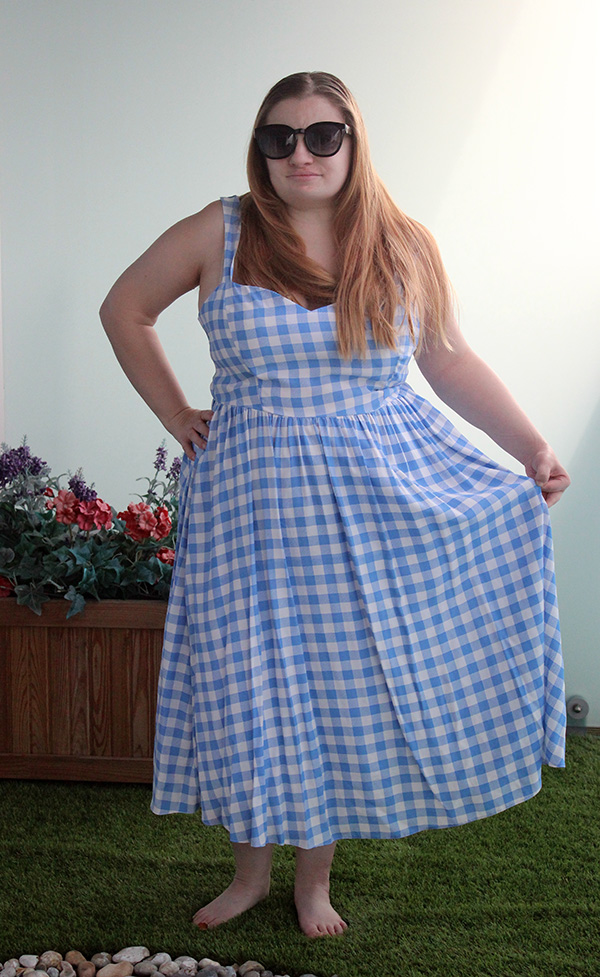 Save