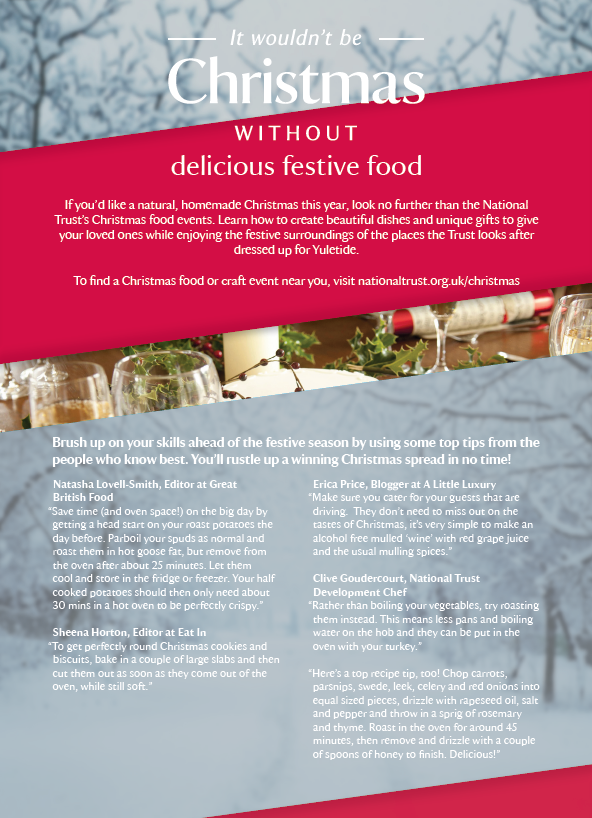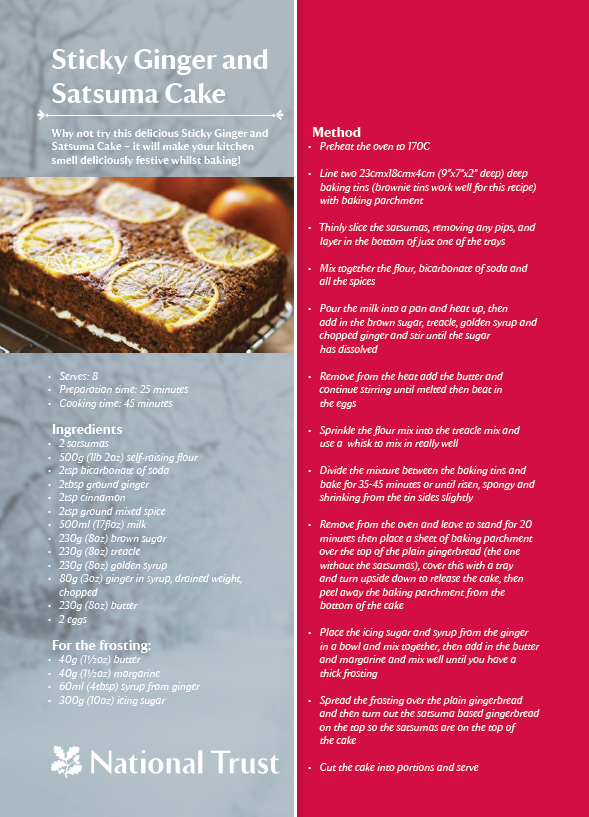 UK'S BIGGEST CHRISTMAS GARLAND UNVEILED AT A WHOPPING 100 FT REFLECTS THE RISE IN 'HOMEMADE CHRISTMAS'
– UK's largest Christmas garland has been created at National Trust property, Cotehele in Cornwall
– Over 2 million Brits will spend over £1,000 on presents in-store and online at Christmas[ii]
– A quarter of Brits (24 per cent) will be making homemade presents this Christmas, as the nation shuns the High Street in favour of gifts with a personal touch
– Brits believe they could make an average 16 per cent saving this Christmas by making DIY gifts at home
 The UK's largest Christmas garland has been erected at National Trust property, Cotehele, in Cornwall today. The 100 foot garland containing 46,000 flowers, all grown and dried on the estate, took a team of 25 people, including National Trust gardeners and volunteers, over 90 hours to create with an average of 622 flowers being added to the design each hour. The process involved painstaking planning, preparation and construction by the team at Cotehele who added each flower one-by-one in order to ensure the intricacy of the design, which is now in its 59th year.
It's not just the National Trust going 'home made' this Christmas, as new research out today reveals that a DIY Christmas is on the rise; over one in five (22 per cent) of Brits will be making homemade Christmas decorations, with one in four (24 per cent) stating that they will be making homemade gifts this year.
Across the UK consumers have taken 'homemade Christmas' to their hearts as almost half the nation (44 per cent) is hoping to receive homemade presents from someone they love this Christmas. By making DIY gifts at home Brits could make an average 16 per cent saving over the festive season, which should be welcome news to over 2 million Brits who spend over £1,000 on presents in-store and online at Christmas[iii]. Women are the worst offenders, with over 1 million admitting that they will spend over £1,500 on gifts[iv].
The most popular source of inspiration for homemade gifts is friends and family (54 per cent), followed by arts and craft fairs (45 per cent) and magazines (38 per cent). Facebook is the most popular social media platform for people aged over 55 to get inspiration for homemade Christmas presents (10 per cent), whilst over half (51 per cent) of those aged under 25 using Pinterest.
The top 5 homemade gifts being given in the UK this year:
Biscuits and chocolate (50 per cent)
Hampers (42 per cent)
Christmas cards (40 per cent)
Jams and chutneys (26 per cent)
Jewellery (20 per cent)
Research by the charity has also revealed that thought and sentiment are more important than money spent on Christmas gifts for nine out of 10 Brits (88 per cent), and over half (61 per cent) wish their friends and family would spend less money on them at Christmas time. People under the age of 25 are most likely to prefer a homemade gift to a shop bought one (36 per cent), and people aged between 45–54 are most likely to prefer to give a gift than to receive one (73 per cent).
Mary Chatburn, who creates inspirational homemade decorations for the National Trust's The Vyne, Hampshire said: "We are so pleased to see that thought and sentiment are more important for the nation than money spent on Christmas gifts – it shows just how much value people place on receiving homemade Christmas presents! Making your own decorations and gifts can become a great festive tradition and provide everlasting Christmas memories for the whole family – much more so than the classic pair of festive socks!"
The charity's 100 foot festive garland represents the importance of a hand-made Christmas, and is something the property team at Cotehele in Cornwall have been making year on year.
Dave Bouch, Cotehele's Head Gardener said: "We're so excited to announce that it is now the largest National Trust garland! Seeds were sown in early spring, flower picking began in May and each flower has now been added one by one to create the stunning decoration – which forms an integral part of the Christmas display at the property."
Every year at the beginning of November, the hall at Cotehele set high above the River Tamar, opens to the public so visitors can watch staff and volunteers putting the garland together from flowers such as Ornamental Grasses, Everlasting Sand Flower, Straw Flower, Paper Daisy, Paper Rose and Statice. From today, the spectacular result can be seen daily until 31 December, except 25 and 26 December.
The National Trust is offering over 300 Christmas workshop events across the country this Christmas, including cookery classes, wreath making workshops and arts and craft sessions. To find your nearest property and get involved, visit www.nationaltrust.org.uk/christmas
Cotehele is located in St Dominick, Cornwall, near Saltash, PL12 6TA. The Edgcumbe tea-room, Barn Restaurant, shop and gallery are open daily from

11am-4pm

. With the exception of the hall with the Christmas garland and the First World War exhibition, the house and mill are closed for the season and will reopen on

12 March, 2016

. The garden and estate are open every day from dawn-dusk. For more details, please visit http://www.nationaltrust.org.uk/cotehele or facebook.com/cotehele or Twitter: @cotehelent or contact Cotehele on 01579 351346.
[ii] Source: Office of National Statistics.  Mid-2014 total UK adult population (18 years and over) is 50,909,098 (one per cent = 509,090). Four per cent of UK adults will be spending over £1,000 on Christmas presents in 2015 = 2,036,360
[iii] Source: Office of National Statistics.  Mid-2014 total UK adult population (18 years and over) is 50,909,098 (one per cent = 509,090). Four per cent of UK adults will be spending over £1,000 on Christmas presents in 2015 = 2,036,360
[iv] Source: Office of National Statistics.  Mid-2014 total UK adult population (18 years and over) is 50,909,098 (one per cent = 509,090). Two per cent of UK adult women will be spending over £1,500 on Christmas presents in 2015 = 1,018,180
Save