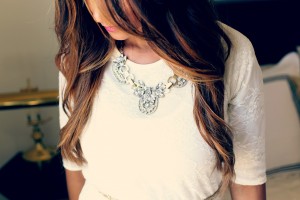 I found this the other day on my old archive on my website, so I thought I would post it on here. For fun here are my ten personal fashion commandments? I tag everyone to do this- if you do this before the end of the month, tweet me the link (@annanuttall) and link me in your post and I will guest post in November.
1. Handbags are everything.
The words of a handbag addict right there (seriously it does Richard head in as I'm always buying a new bag!) I  like to think they are the best part of an outfit to invest in, special handbags mark for special occasions or a classic designer handbags which never go out of style. Who doesn't want a Mulberry or Chanel in their life? It's what savings accounts were invented for!
2. You can never pile on too much jewellery.
The little black dress is a great example of this, a plain black dress by itself is very chic. Accessories the plain black dress with a gorgeous statement necklace, and two fabulous arm parties it look some much more chic.
3. Being cold isn't stylish.
When I was 18 I would go out for the nights out in the middle of winter with little more than a cardigan… 12 years on and this would categorically never ever happen now. I absolutely can't deal with being cold and winter coats and jackets are so much fun especially this season, you've got khaki, camo, faux fur and leather to adorn yourself with. Perfect.
4. Dressing to your accentuate your self confidence is vital.
I have a particular body type… round apple short body. I have always carried all my weight on my stomach and thighs. Not really fine by me as I can't necessary dress how my friends would dress. I love baggy t-shirt (to hide the round apple tummy) with black pump, but sometimes I have to remember to try and show off my shoulders which are  my best points, and I can't wear dresses that have a big hold cut out of it. These kinds of learning make a big difference to how successful you are with your outfits.
5. Cool shoes can transform plain into perfect.
This is pretty self explanatory. Blue jeans and a white tee is an outfit. Blue jeans and a white tee with high top wedge trainers or studded healed boots is a far better outfit. The only problem is I have size 2 feet.
6. Mixing makes an outfit.
See my above outfit of a white tee and blue jeans, throw on a leather jacket with a faux fur gillet over the top and the mixing of textures gives you an added oomph on the style factor. Alternatively add a patterned jacket or cardie and a clashing patterned scarf.
7. Your hair and make up make or break your outfit.
If your outfit looks amazing and your face looks rubbish it does slightly brings down the oomph of your outfit. I'm in the camp that make up and hair style will make or break your outfit, i'm also saying that lovely make up combined with messy hair can also works. I'm not saying pile it on, but who doesn't want to pop on some eyeliner and mascara everyday?
8. It doesn't have to be expensive. Invest in basics and handbags.
For trend based items I would never splash out, this is what Primark is all about. Invest in something that you will use again and again.
9. Running shoes should only be worn when running.
I categorically don't understand the concept of wearing disgustingly bright high heels on your commute. I totally get you want to commute in your louboutins in getting to point A to B but why on earth out of all the gorgeous shoes out there do you choose horrific glow in the dark monstrosities to partner with your black tights and suits combo. I just don't get it. Isn't it uncomfortable for your feet?
10. Never be afraid to try out something new.
Last but not least. trying new looks helps evolve your style and stops you getting stuck in a rut. And if its not a total style win, then it's only clothes so it doesn't really matter.
So I tag everyone- and if you do this post link back to me and tweet me about it and I will feature the best one in November!