If you are like me and love having perfume. Then I think you will love my perfume collection.
As I was growing up, I was always fascinated by perfume smell. I was the annoying kid in the department store round at the beauty section who would spray everything, to be honest I still do that even now but I'm a lot restrained now. I used to love going into the Body Shop and smelling everything, the perfume, the soap and the body lotion. I'm one of those people who like what I call 'artificial smell' or what could be called as 'man-made' smell. What I mean is I hate the smell of something natural like smelly flowers (yuck) or meadows or pine cones. The kind of usual smell people would go 'ahhhh that smell lovely', I'd be like politely saying no it doesn't. However there is one natural smell I do like and that is 'rain', especially rain after a thunder-storm as the air smell so fresh and not over powering. But all other natural type smell just doesn't smell nice to me.
So What kind of smell do I like then? Well here is a list of my current perfume collection which I have been using recently and a quick review of what I think of them.
L+R: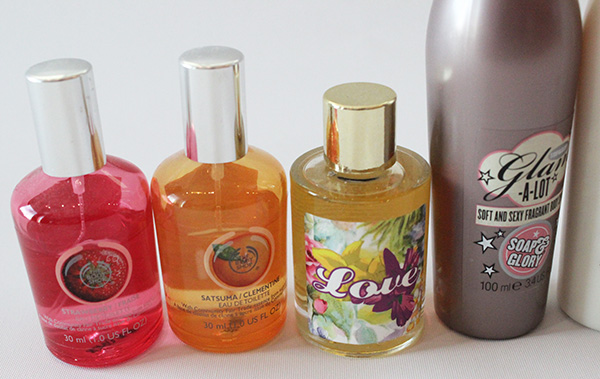 The body Shop Strawberry + Satsuma Perfume, smell amazing! I've been getting these fragrance bottle for such a long time and I'm always replenishing them. They do smell like Strawberry and Satsuma (not in the same bottle may I add). I'm always spraying this on in the morning and the smell still linger all day.
Lush Love Perfume. Lush does perfume, oh  yes it isn't just bath bombs and cosmetic. Let me tell you the back story of this perfume. 5-6 years ago Lush has a separate make-up store called 'Be never too busy to be beautiful' but still operated under 'Lush' name, they did make-up and perfume. There was one I really took to like a lot – Love. The store of 'Be never' eventually closed down with the promise that it will open up in Lush shop. Well it now have in their flag street store on Oxford street and when I visited last year – lo and behold they brought back my beloved 'Love' perfume. It smell like cinnamon, spicy and vanilla and a great plus the smell does linger.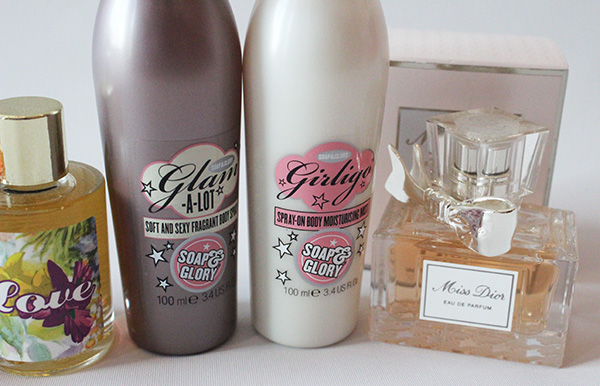 Ignoring the 'Love' bottle.
Soap & Glory Glam-a-lot and Girligo Perfume. I was given these last year, and I use them as a quick spray if I'm in a hurry. The Glam-a-lot smell musky and fresh while the Girligo smell like vanilla and musky again. They cheap to pick up in boots and good to put in your handbag.
Dior Miss Dior Perfume. My mum picked this up for me last year when she visited Paris, I off course saw the advert in magazine and was keen to try this out. This is my favorite perfume and one that is most the expensive. Pretty bottle and I can't quite my finger on the smell but it does smell nice.
That was my perfume collection. I have one question to ask you all. Which is your favorite perfume smell?
Save