If you're like me and looking for some gorgeous spring dresses to wear. Then you might want to check out Miss Selfridge spring dresses 2018.
Apparently here in the UK this weekend, a mini beast from the east is supposed to causing chaos with some unexpected snow storm. I know, just when you thought you got over snow – nope it just has to pop its head in and make everything all chilly again. Thanks, mother nature, just what I need! Beast from the east 2.0.
C'mon, can't a girl catch a break. Can't she just have that little bit of sunshine and warmth? Not too much warmth, mind you – or I will start complaining. But I just want to go out and take some photos without worrying if it going to rain or not. I want to have a day out exploring castles and enjoying some quality free time. I've been cooped up indoors for too long, this girl needs to get out.
I feel that way with my clothes, been cooped up for too long with winter wear and now just want to break free. You know how Superman sometimes rips his shirt when he changed from Clark Kent to Superman, well that how I am with my winter clothes. I just want to rip it off and transform into super spring girl Anna. What would my special power be, being able to zap winter wear away and to wear nothing but spring clothes?
Anyway, speaking of spring clothes, let me show you these gorgeous Miss Selfridge spring dresses 2018. If you want 2018 spring fashion to be fun and floral, then you are in luck as you would be crazy to miss out on them. Who doesn't love the look of these Miss Selfridge spring dresses 2018?
So if you are as fed up as I am about winter and this whole beast from the east rubbish, and just want spring to get on with it. Then take a look at my Miss Selfridge spring dresses 2018, let me know which one you like the most.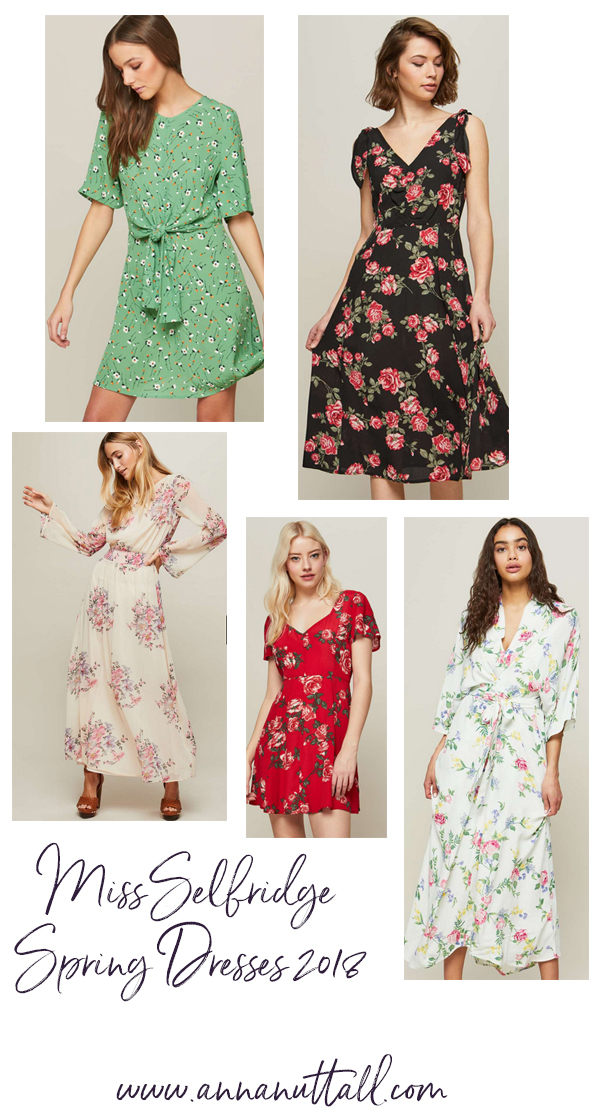 (L+R – T+B)
Tie Shoulder Midi Skater Dress
Floral Kimono Twist Maxi Dress
(Affiliate Links)