Another week, another mascara to try out. This week it's the Max Factor mascara 2000 Calories Curl Addict.
Told you I was obsessed with mascara. I have already reviewed the Rimmel Volume Shake Mascara. So today I thought I would try out this Max Factor 2000 Calories Curl Addict Mascara.
If I'm honest, I'm still on the hunt for the perfect mascara for my eyelashes. Like I said last time. I have very long fine eyelashes so I like for them to stand out and make a bold daring statement.
What the first thing you notice when you meet someone? Their eyes. So for me I think you should dress up your eyes. As after all, people do say that the eyes are a window to the soul.  Make the eyes stand out and give them the full attention they need.
Anyway, moving on, let me explain to you about this Max Factor 2000 Calories Curl Addict Mascara.
Max Factor 2000 Calorie Curl Addict Mascara is the novelty product brought to you by our rule-breaking make-up artists, designed to create outrageous volume and vivacious curl over and over and over.
Part of our family of bestselling Max Factor 2000 Calorie mascaras, Curl Addict brings you the volume you crave while lifting and curling lashes for a wide awake look.
The short-curved brush hugs the eye line like a lash curler for maximum root volume and curl. Tightly packed bristles dispense the formula evenly up to the tips.
(source)
This all sound very promising. So I was eager to try this.
Here what I look like without the Max Factor mascara. As you can see my lashes are so fine. I think the older I get the finer my eyelashes become.
Before I show you what I look like after applying the Max Factor mascara. Let me show you the brush.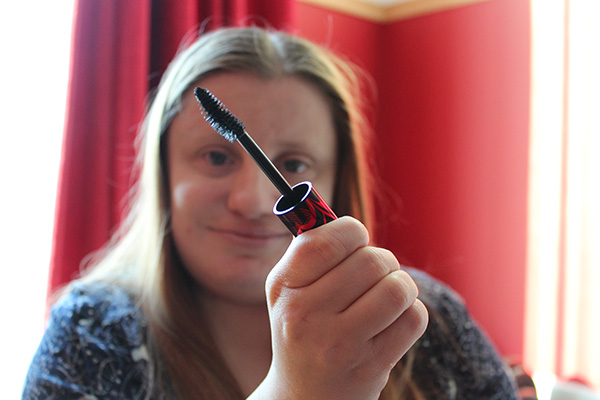 As you can see here, it has a slight curled which I feel give you more room to add full mascara on those tiny lashes. I said this before but I prefer mascara brushes that can curled a little. It stops the mascara getting on your eyelid.
Anyway, here what I look like after. This time I was able to do a close up.
This Max Factor Mascara promises to give my lashes volume – does it delivered? Yes, it does. I definitely notice volume with my lashes. It makes them stand out and give my eyes a daring bold statement. I feel my lashes has more fullness to them and has a nice lift to them. I didn't also notice any clumpy mascara textures.
If you like inexpensive mascara that give you lashes volume but won't break the bank. I do highly recommend this one. It works well for me. I feel you need to give this Max Factor mascara a go – today.
(This post does contain affiliate links, but I reviewed this product myself and gave a honest response. I will never put anything I hasn't tried out myself.)
Save
Save