Happy valentine day –  I hope your day is going well and you're getting spoilt and generally having a fun day. My day hasn't been so good, I felt like today I have walked through the twilight zone as everything went wrong.
I got up early this morning for my shift at my retail place where I work, feeling groggy and sleepy I didn't wish Richard a happy valentine day, it's so heartbreaking getting up to work when your significant other is all tucked up and fast asleep; anyway once I was at work I texted Richard a happy valentine day, apparently my text woke him up so he wasn't a happy bunny. The person who I was meant to be swapping section on my department didn't turn up so I ended up minding the service desk on my own, cheers for that! I had customers off course losing their temper at me – it no good loosing your temper at me, I'm trying to serve people as fast as I can – especially when I'm on my own. I then had my break late making me miss breakfast buffet so I ended up not eating anything. Someone eventually came to help me but only to be told it (don't want to say he/she) could only do half the job – don't ask! I finish work and then my bus was 30 minute late, and to top it all off I had this weird strange guy trying to talk too me – umm I just want to listen to my ipod.
So off course I came home in a bad mood, thinking I might bury myself in my duvet and pretend this morning didn't happen. I came home and I was greeted with this lovely sight waiting for me on my dinner table: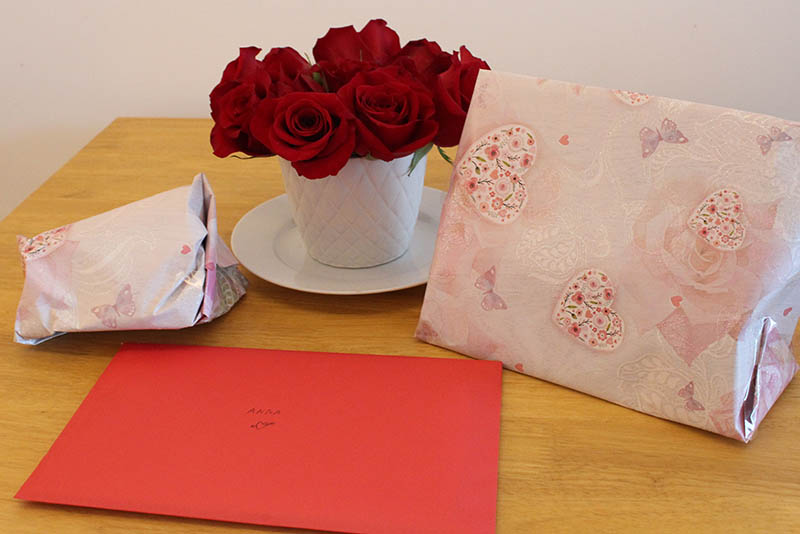 *sigh* My heart latterly exploded and all my morning trouble seem to be forgotten.  Oh Richard, you do know how to melt a girl heart. The sight of red roses, 2 presents and a card made dissolve into a bubbling rambling mess. This is the kind of pick me up I need when I had a rubbish day. I haven't open them yet as I'm waiting for Richard to finish work tonight and me for me to give him my gift.
So If you're single and pretending that there never is a valentine day – I hope you are having fun with your friends and watching corny romantic movie. Or if you're spending the day with your boyfriend/husband/girlfriend/pet dog etc. I hope they are spoiling you and remember valentine day is the perfect opportunity for a pick me up as I have found out today.
P.S: I would just like to add that this isn't a 'look what I got, na na na post' – I just thought it was very sweet especially after having a horrible morning.
Save