The rules
: It really easy and fun to join in! If you have written a blog post this week then please share it using the below linky. Your blog can be about anything – food, travel, beauty or fashion, as long it's appropriate. Also if possible please share your posts with the tag: #anbloggerslinkup so we can find each other! (T
he an in the hashtag stand for Anna Nuttall
.)
Commenting:
There are no 'rules' about commenting, but please if you have time do check out some of the other bloggers who have linked up and leave them a comment on their post. That isn't it kids – there is more. I want to give you as much exposure as possible to bloggers, so I will be sharing your posts across my social media and every week, so I will be choosing just one bloggers that have caught my eye to feature on every week's bloggers links up. It will be completely random and I don't accept tips –
well if you really want to give me that £5 I ain't complaining
.
Share the love
Please share the love and add my button to your blog sidebar or posts! This is a new bloggers links up so spread the word, the more bloggers we can get on board the better it will be.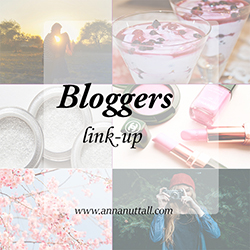 Save this badge to your own site and please link it back to here.Do Not Direct link!
Add your links below, and make sure to come back soon for the next installment of #anbloggerslinkup! Have fun.