Yesterday you took a look at my old livejournal diary entries. Today it's a page from my current diary and what been going on in my life for the last week:
Soggy Wet Feet:
Last week it snowed. I was very unprepared for this weather change. Remember how I were saying I have winter attire that are keeping me warm and sane, well guess which idiot forgot to pick those winter attire up as she was heading out of the door. On a day it snows – no less. Can you guess? Can you? Yup I was in such a rush to get out of the door that day, I forgot to pick up my hat, gloves and to put on my winter shoes. It was only once I got to my destination and heard on the weather report that snow is coming, I realize I was underdressed and I was going to freeze.
To make matter worst, that day I wore my normal black pumps that has a hole in the sole. So that day it rained very heavily and gradually turned to snow so my feet got not only freezing cold – but soaking wet.
I had to spend the day with soggy wet feet. The people around me was telling me it serves me right for going out with a hole in the shoes. Ok sure, it was my fault and I should have thrown those damn shoes away a long time ago. I should have also looked on the weather report before leaving – but I was too busy being stressed about the train strike then my winter attire. Basically my mind was on other things so that day I threw on my easy to go shoes and I rushed out of the door.
Every step I took I could hear a squish sound coming from my soggy wet feet. I spent 15 minutes in the ladies' room trying to dry my sock on those hand dryer – to no luck. It was a picture to be seen with me hoping around the ladies' room with my sock in the hand dryer. I did get a few odd looks.
By the time I got home and despite me loving the snow (who would have thought it, me the goldilocks of British weather liking snow!), I was miserable.  On my way home I genuinely was holding onto people to stop me slipping, which was horribly embarrassing.
Threw those shoes away and brought some new pumps which bring me nicely to my next point:
New shoes:
I have good news and bad news. Actually they are all pretty damn bad news. Oh dear…
Those uggs winter boots I mentioned earlier hurt my feet. It not the reason why I didn't wear them that day where I got soggy wet feet. Like I said before, I just ran out the door. But yeah Hoston we have a problem – they hurt my feet.
This is the problem with uggs. But every step I take It just kill me and I can feel my heel rubbing against the flax fur painfully. Like I was saying, this is the problem with uggs. I find their shoes to be unsupported to the shape of your feet. Does that make sense? Once you get your feet in the shoe, it covered by so much flax fur there isn't any support like you get with normal shoes. It like putting your foot into a wooly jumper and covering it was fur. I find it so uncomfortable to walking around on and the heel just rub against the back it just causes irritation.
I looked a right mess when I went food shopping and discovered they hurt my feet. Mumbling under my breath as I wheeled my food trolley – ow ow ow. I had a few people asking if I needed help – no just wanted to take those damn uggs off.
I got home and nursed my poor feet and I hasn't worn them since. Now I'm not sure what to do with them. I will keep the uggs as my parents brought it for my Christmas present. Bur I might just wear them if I have an emergency. There are now my last emergency winter boots.
On another note with sore feet and painful to walk shoes – I brought this beautiful heeled shoes.
They a beauty, are they not. I have been hunting them down for the last 6 months on Asos.com been waiting for a size 2 to be available. It was love at first sight and I imagined myself to bee strutting around London in my pretty pink shoes.
That what I thought anyway, the shoes arrived and they don't bloody fit me. They are a size too big. My pretty pink shoes are more of 3 or 4 then a 2.  And the heel is little bit longer/taller than I would have liked. So I put my feet in them and it like a child stepping into her mum high heel shoes. Loads of empty space at the back. All my weight is on my tip-toes. Needless to say I can't walk in them and I end up losing my balance.
Oh well they are still bloody pretty and they will sit on my shoes shelves to be admire and to be a blogger prop. Asos need to sort out their shoes sizing.
One last piece of shoes bad luck, you're going to love this. Now my gym trainers are hurting me. I can't win can I?
Well I can in fact and think I might have some good news at last – hurrah! I brought my replacement black pumps from New look and I think I'm on a winner.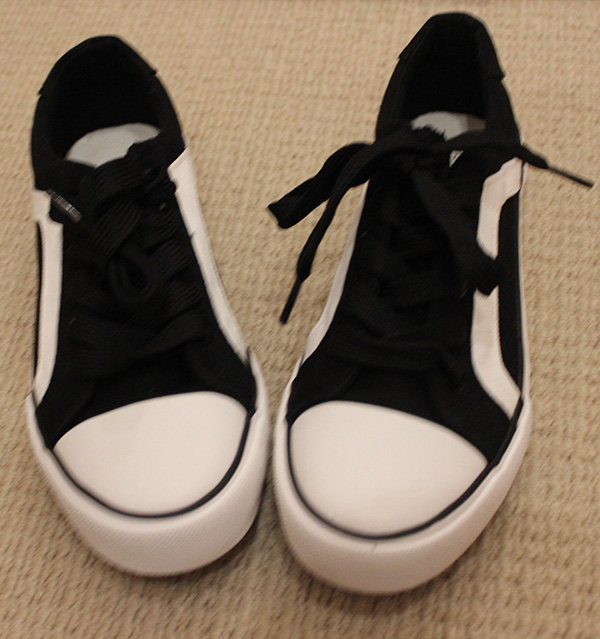 From what I seen (and walked in) there isn't a problem and these new black pumps are my everything shoes. The one that will see me all year round and the one I wear to do everything in.
Hurrah and can you believe it but I written 1000 words on my shoes and feet. Next week I will talk about my arm and hand. Actually no I won't. Sarcasm.
Let me know if you enjoy reading my current diary/ life story.
Save
Save
Save