It has been a while since I done a little life update post, the kind where I sit down and tell you what have been happening in my life lately. I tend to do these type of 'life update' post every so often as when I read back in a few month times I can look back and goes "oh yeah I remember that now", and it also so I don't leave you not knowing what been happening in my life. After all you're dying to know what been happening in my life haven't you, come on admit! *tumbleweed blow across the screen*.
Anyway let get on with it and to make it simpler I have made it into bullet point:
I started a new blogging Facebook group. It's called ' The Blogging Universe' (original title don't you think so?) so all join and become a groupie. This group is just a fun place to meet up and to promote your blog and to ask questions or get a solution to a problem. I started this group as I'm stopping 'Anna Nuttall Bloggers Links-up' to concentrate on other content for here. I will bring it back someday.
Anyone else been feeling like TV shows on Netflix and Amazon Prime a bit dreary round summer? There nothing seem to be on, and if there is anything on it seem to be some cheap tacky reality TV like for example Celebrity Big Brother. I find myself re-watching shows I already seen about twice.
While I'm on the subject of TV shows on Netflix, for anyone who watches Once Upon A Time did anyone else thought season 5 didn't exactly flow very well? We was told leading up to season 5 that Emma the good savior of fairy tale world gone bad and we was being treated to black swan Emma. However she was never that bad and was never really the dark ones (if you watch the show you would know what that mean) like Rumple. I felt the entire story line for season 5 – even when they went into the underworld – was just rushed and just didn't flow very well. What do you think? For me season 5 ruined the series for me.
Richard Nuttall, my husband is turning to blogging. Oh yes you read that right. He going to start a technology/photography/science blog over on his website. I will tweet when the blog is live but it will be very different to here.
I'm currently in the process of writing a business plan for Nuttall Media. More details soon but that is my main focus right now. Trying to get a business off the ground. It's a lot of work right now.
Really need to do something with my hair, ugh I hate my natural hair colour.
Keep getting angry at the train, especially southern train as it make me late meeting potential clients. Last week I was 45 mins late for a meeting – 45 mins. The clients wasn't happy and deducted my pay. And it will get worst next week as there is a train strike. Gahhhh the trains round London is useless..
A big thank you for your comments on my 'Why I'm ok with not having children' post. Seriously I have read every single comments and it made me smile to know there are people out there who knows what I went through. Thank you.
Anyway I will finish on something very cute: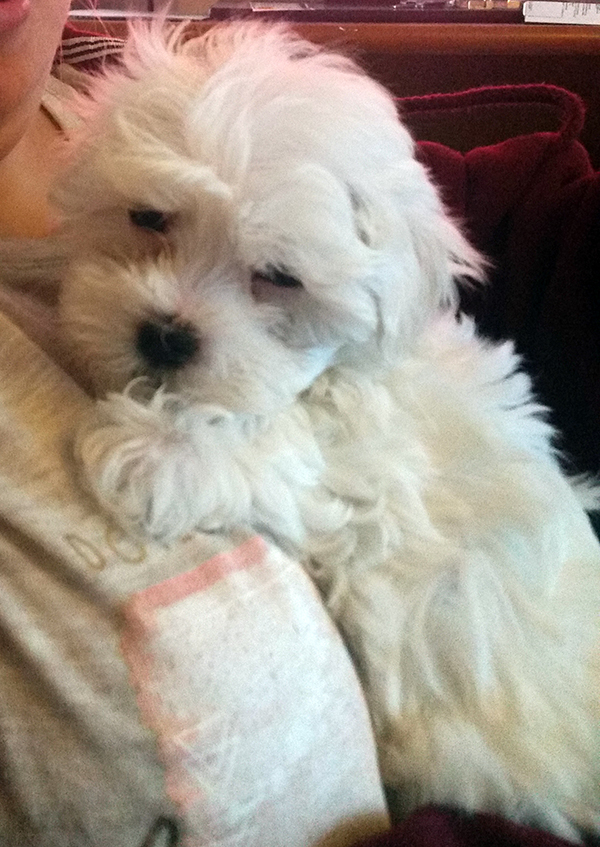 I went to look at some puppies last week, as I'm thinking of getting a dog for both myself and for my parents. Since my parents have retired they been stuck at home being bored so getting puppies will be good company for them and give them something to do. The puppy will be a joint ownership between my parents and I and it will primarily stay at my parents house but I will have the puppy with me during the day, it just can't permanently live with me. Don't worry my parents live near me so it works out best for both of us. It also might have to happen maybe next year as my parents are going away for a month and want a spring puppy.
So yeah that exciting, even those it not happening for a while I decided to look at some different breeds and to get a feel of what would be right for us. I saw some Maltese puppies which was tiny and adorable and I fell in love with them and if it was going to be solely mine I would get it instantly. But I also saw some Shih poo (it a cross between a shih tuz and poodle) puppies which was also adorable and I thought this breed would be more suited for my parents. I want a good tempted family pet that will work best for the both of us. However my parents says it my choice at the end of the day.
If you have a dog, what breed do you have?
So that my life right now, exciting huh? What have you been up to in life recently?
Save
Save
Save
Save
Save