Lately I have been collecting a few things that I have been loving lately. I thought I would show them to you, here is what I have been loving lately.
Raindrops on roses and whiskers on kittens. Bright copper kettles and warm woolen mittens. Brown paper packages tied up with strings. These are a few of my favorite things…Julie Robert
I have been thinking about doing monthly favorite on here, but with me – what I could like one month could very well follow on for the next month. Or being the unpredictable person I am, I could very well like something one month and then hate it the next.
So yeah doing a monthly favorite is a little tricky, but I thought I would give it a go and show you a few things on what I have been loving lately.
This month it's a real mix bag, a few things that I have already mentioned on here – but I'm still loving it so I'm mentioning it again. Do let me know if you will be trying these out.
Loreal Fine Flowers Cleanser & Toner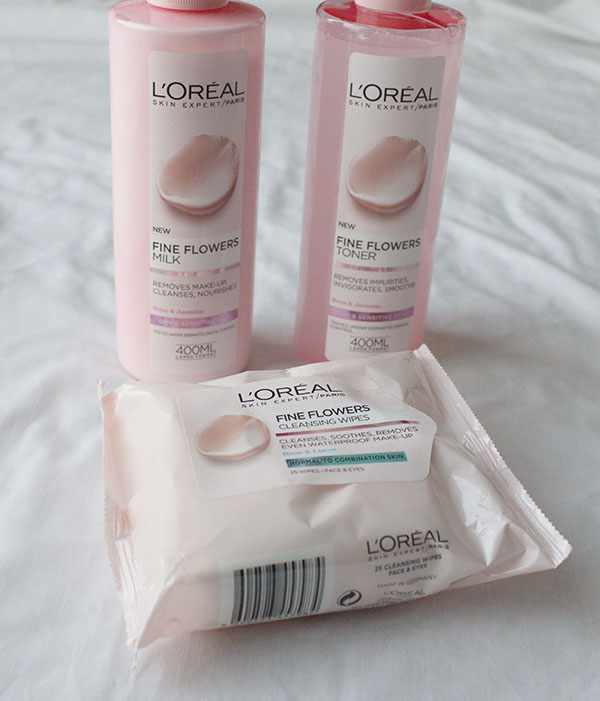 I have already written about Loreal Fine Flowers. However, I'm mentioning them again as it still the best skincare range I have ever used! Seriously I adore using this range. I use this usually after going to the gym and it work wonder for me. I have found since I started using the toner in combination with the cleanser, I had no redness and no under the skin spot.  I highly recommend the Loreal Fine flowers range.
Tesco Sparkling Flavored Water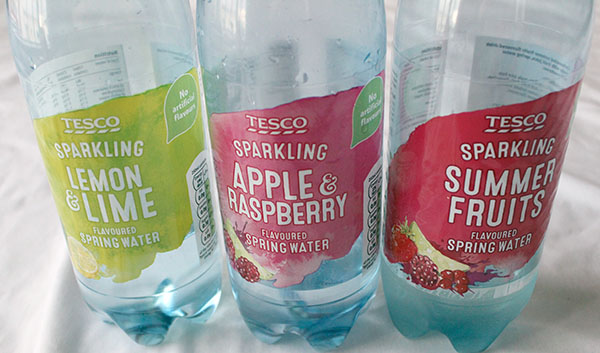 This might seem like an odd thing to put here, but these drinks kept me sane throughout the hot weather.  There are three flavors: lemon and lime, apple and blackberry and summer fruits. I'm normally not a fan of sparkling water, but I found these to be so refreshing and taste just a little nicer then tap water. I won't go into how our plumbing is rubbish and how often tap water comes out warm – especially when all you want is a cold glass of water. But these sparkling flavored water have been my summer savoir and with them being 60p a bottle, it also a bloody bargain.
The Cure Argan Oil Collagen Essence Mask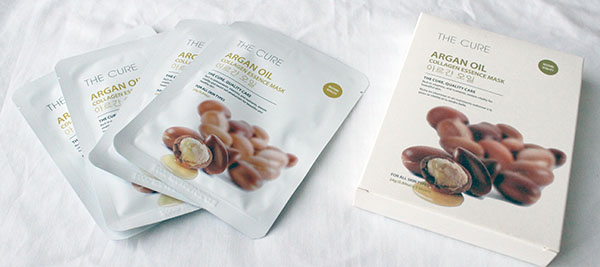 I mentioned The Cure Vitamin Collagen Essence Mask a while back, I was so impressed I rushed back to TK-Maxx and brought a different essence mask. This is The Cure Argan Oil Collagen Essence Mask. Work exactly like the other one, where you have a mask sheet dipped in beauty oil. Once again this works wonders for me and I was seriously impressed with this. If you can pick this up at TK-Maxx (or TJ-maxx for my oversea readers) then you won't be disappointed.
Leighton Denny Expert Nails Trio

This was part of nails sample I received, I have mentioned them already. But I'm still impressed by the Leighton Denny Expert Nails Trio and how it was able to make my nails all shiny! It looks very much like a nail file but this work way better than one as one side is sandpaper while the other is smooth and shiny. What you do is just rub your nails on the sandpaper side first then turn over and use the smooth shiny side. I wish It comes up in photos on how shiny my nails were, but trust me on this. The actual thing to buy can be a little expensive but if you can get a free sample or a free demo, It worth it for simple shiny nails.
Magazines
While shopping in Sainsbury's I came across some magazines that stood out from the rest. They were: Calm, Willow and Sage and Moment. I will be talking a lot more on these this weekend so I will only briefly mention it now. If you like your magazines to be celeb free and you can't stand reality Tv news (I don't blame you, I find it all a bore!) and want to be self-aware about your surrounding then I do recommend you picking up those magazines.
And those are what I have been loving lately. Let me know if you like the look of any of these. What have you been loving lately?