My obsession with 1950s inspired swing dress is in full force at the moment, like a blazing hurricane to a calming sea. As I mention in my Lindy Bop's butterfly outfit post, I'm finding swing dress to be the perfect fit for my rather difficult figure. As I mention before I'm short (4ft10) with a bramley apple figure, so wide hips and waist with lot of weight round the stomach area. I can't wear clothes that cling to figure so instead I tend to opt for dress that has wide big open skirt with plenty of room to move about with narrow waist, giving the illusion you're thinner then you are.
Another reason for my love of swing dress is that it cater to my inner retro child, I can pretend in my head that I'm some fabulous 16 years old girl going to her first dance. Well it consider by many to replicate a lot of retro styles, with a swing dress I feel you're already there without trying too hard.
So if like me, you are thinking ahead and wanting to stock up your wardrobe for the cooler months of autumn. My advice would be that everyone should have some fabulous swing dress in their wardrobe, so to help you choose your perfect dress, here are five of my favorite swing dress finds to wear right now.
This Lady Vintage Cupcake printed dress (£32.00) is one of those design that is haunting my dream right now. The only thing that stopping my buying it, is I do need to pay my credit card bill this month. Another thing that stopping me buying this, I can really see myself going to Sainsbury wearing this. Practical at a vintage fair but for everyday uses, maybe not. This is just staying on my wish list for now.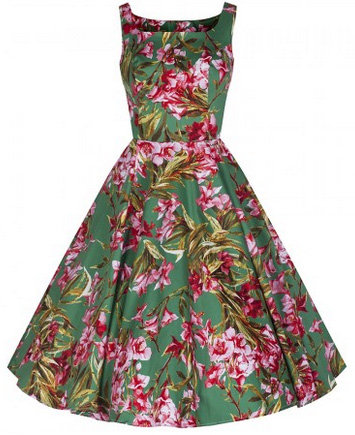 If you're like me and love combining a little bit of vintage print with garden parties (well let be honest, I very rarely ever go to a garden party) then this Pretty Kitty Fashion Green Pink Vintage Floral Blossom Rockabilly Swing (£34.99) might be for you. It add a little bit of sophistication when paired with white gloves and cardigan. It an elegant high chest Audrey Hepburn styling with shoulder straps.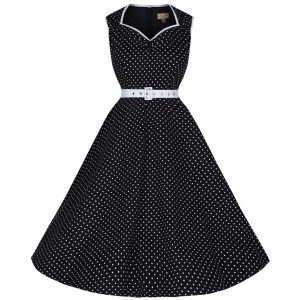 Combining my two great loves when it comes to dress design, polka dots and sweetheart neckline, this Lindy Bop 'Xandra' Black Polka Dot 1950's Inspired Dress (£29.99) would definitely make it into my basket if I had an occasion to wear it like perhaps going to a cocktails evening, as I was saying before I can't really see myself wearing it while doing my food shop. However I do have an idea of how to get around that, maybe perhaps I could team it up a blazer or cardigan.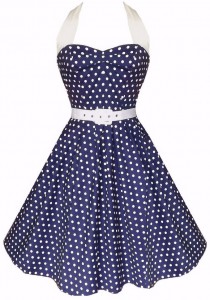 I have a confession to make, I have yet to own a halter neck dress, I'm not really sure why I don't own one but it seem I have yet have one in my wardrobe. This Lollypop Vintage classic blue & white polka dot dress (£29.99) could very well end up in my basket. Once again it polka dot with a sweetheart neckline, it also show off your amazing shoulder work you been doing at the gym for the past few months.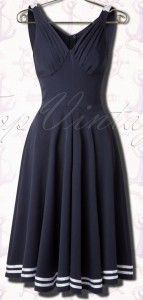 If you like to swing but don't want a big over the top printed design, then a simple Top Vintage Miss Candyfloss – 50s Carol May Sailor Dress in Navy (£64.06) might be the one for you. This could be worn while doing the food shop or even at a cocktails evening. The waist is little clingier then what I like but team it with petticoat and it will still hide your lumpy area. It also might be a good idea to wear a good bra with this.