One of the reasons why I hate summer is to do with all the bugs that seems to swarm about. As soon as it gets hotter and sunnier, those bugs seem to be everywhere. That why I'm telling you today about incognito Second Skin Sun cream.
A unique, tri-action sun cream, moisturiser and insect repellent is launching this spring from award-winning insect repellent brand incognito. incognito Second Skin Sun cream provides the ultimate in premium skin and bite protection but without the nasties…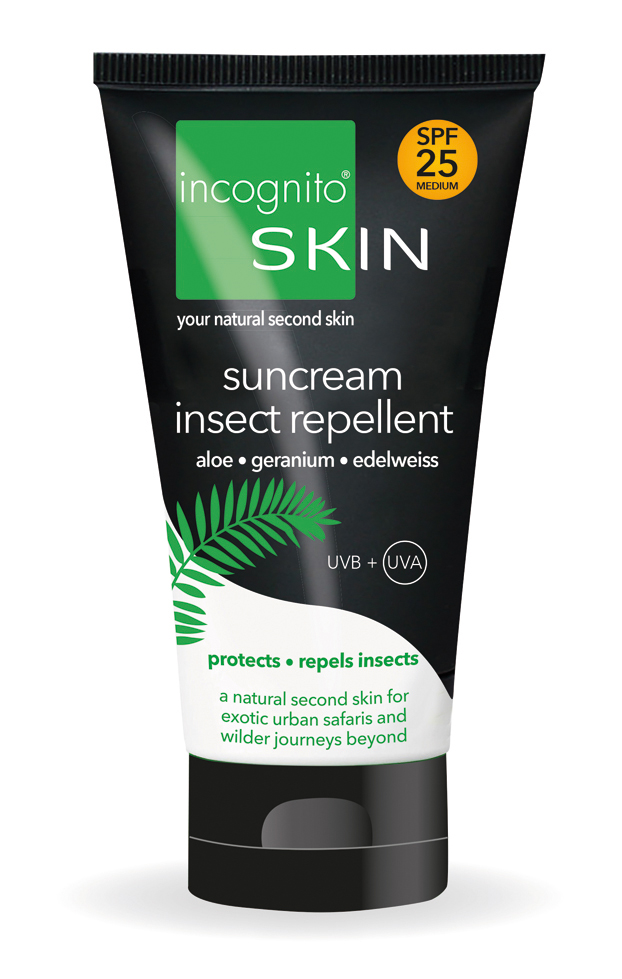 New incognito Second Skin Sun cream is part of a unique premium skin protection range of plant-based anti-mosquito beauty products. It is a unique, triple action sunscreen, moisturiser and insect repellent, making it very convenient and even saving your luggage space. The cream is quicker to use – no more applying three separate products – and far more effective, with no conflicting scents that could help attract mosquitoes or other biting insects. It is easy to apply and non-staining to clothes.
It has a proven efficacy. The active ingredient (PMD), that repels mosquitoes and other biting and stinging insects, is recommended by Public Health England and the NHS. It has been tested 100% effective against Zika, malaria, dengue and chikungunya carrying mosquitoes and offers an unprecedented level of protection.
The sun cream has a proven SPF, providing the highest medium broad spectrum protection you can get, protecting against both UVA and UVB rays. It is the only combined natural insect repellent and sun cream and doesn't interfere with the SPF; nearly all sun cream repellents have been removed from shelves in the USA and UK because of the interference.
incognito Second Skin Sun cream has a DEET free formula, is registered with The Vegan Society and comes from an ethical and environmentally conscious company that donates 10% of its profits to charity. It contains over 95% plant-based and irritant free ingredients and can be used by children two years and older. The product packaging is one of the first to be made from innovative and environmentally friendly sugar cane plastic; for every kilo of sugar cane used, 4.5 kilos of carbon (CO2) is captured from the atmosphere.
It's moisturising and hydrating to the skin, with a water-resistant formulation, making it perfect for going in and out of swimming pools, swimming in the sea and it has a greater resistance against sweat. The active repellent ingredient, PMD, is the same as that in the incognito award-winning spray and roll-on. Second Skin Sun cream has a smooth, luxurious texture and a light, pleasant fragrance – attractive to humans but not to insects!
Look out for incognito Second Skin Sun cream with its distinctive black and white packaging featuring a New Zealand silver fern, which is launching in Waitrose, Holland & Barrett, Robert Dyas, Harrods, Ocado, Whole Foods Market, Revital, independent pharmacies and health stores.
Second Skin Sun cream has an RRP of £21.99 for a 150ml tube. lessmosquito.com
(So folks, buy this and actually start to enjoy summer! I know I'm going to get my hands on this.)