Throughout the whole of October I have record-breaking page views on this site. I always had steady traffic but never been able to get over 12,000 page views in a single month! For me this is amazing as I have been working really hard all throughout this year pushing my page views on a upward trends. Here is How I Got 12,000 Pagviews In October 2016
All throughout October I published a total of 26 posts which is my usual average amount of post in a single month.  My top 5 most popular posts were:
Something you might notice with all these posts – they are all a mixtures of fashion, beauty, blogging and nostalgic. I do believe by writing a mixtures of different topics does help my blog traffic. If you think about it – it does make sense as I would bring in a big range of different readers, someone who liked my fashion posts can read my fashion posts while I might get readers who only enjoyed my nostalgic posts.  I think sticking to only one theme/topics blog posts would really narrow my blog page views and also would bore me to tears.
So what I'm saying is, writing lots of different posts help my blog traffic the whole of October. I always done that (writing different topics) but it the first time I've seen proof and seen a upward trend.
How did people find my blog?
Facebook
From Facebook which gave me over 3,450 as part of my overall traffic – yes you read that right! Over 3,000. How the hell did I achieve so much traffic from Facebook? Just by joining various blogging Facebook groups. It's a simple as that. By joining loads of blogging Facebook Groups brought in new readers and new traffic to my site. My advice would be it's worthwhile contributing to a few Facebook groups, for example join my Facebook blogging group:
I will say Facebook group is only worthwhile doing if you contribute to a thread. Don't just link dump.
Blog Links Parties
People also found my blog from various blog links parties (or links up as they are also called!). What I do is contribute to various blog links parties throughout the week. People can easily find your blog and click on though.
Stumbleupon (SU)
I still add my site to stumbleupon every time I published a new post. That been another great source of traffic. Remember if you do use Stumbleupon for traffic it a good idea to have a button on your site and to not only only ever just add your site. By having a SU button on your site can help people add your site to SU which in turn will increase traffic. So after submitting your site to SU ask people to like your post on SU.
Organic searches
My organic searches increased in October which I'm really happy about as I have been working on seeing an upward trend. To help you increase your site organic searches it might useful to read my post on how to make your blog more seo friendly.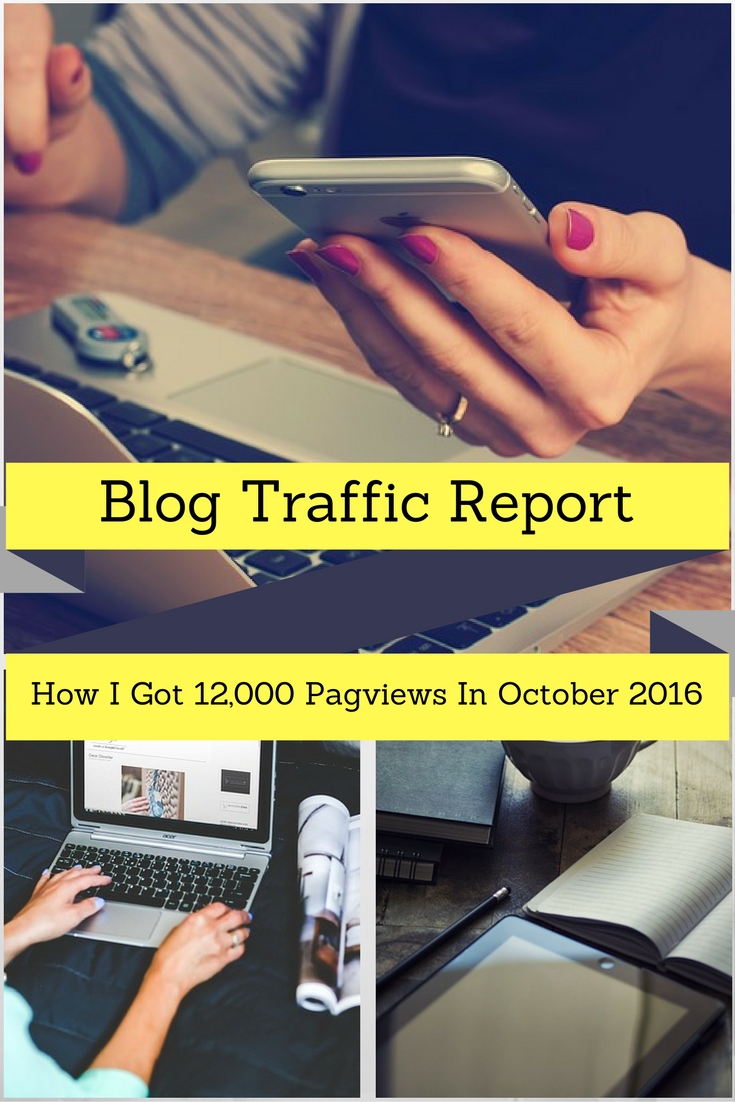 What didn't work in October:
Pinterest and Twitter. This could be as I wasn't really active on those platform throughout October. I didn't schedule anything on Pinterest as my free trial on Tailwind have ended and I didn't really contribute to any Twitter blogging chat. I got traffic from those site – just not as much I've seen from previous months.
Goals For November:
To blog throughout November. Setting up a challenge for myself to blog every single day throughout of November. More new post – more traffic.
Keep increasing my SEO and organic searches. I'm now putting in headers to the top of new posts as the <h2> tag is good for search engine to pick up on when they crawls through your site.
Contribute more on Pinterest & Twitter. Sort out a way to schedule new pins from Pinterest and to talk to people more on Twitter.
Keep writing a mixtures of different topic – it does bring in new readers and stops me being bored.
Overall I was really pleased to see an upward trend on here and I hoping that things will only go up from now on. I'm not sure if I would do a blogging traffic report every month, perhaps when I do see an even bigger upward trend. This post was to help you and how you can get over 12k in page views, it isn't that hard and all you need is some patient and to work hard for it.
Save
Save