Now the most fun I ever had when choosing a dress – is choosing my wedding dress. If liked me and made a wedding dress from scratch, here how I chose the perfect fabrics and style for my wedding dress.
I have to confess; this post is going to be a complete self-indulgent as I have recently been thinking a lot about wedding dresses lately. Before I get any family member who read this and think there either: a) trouble in paradise or b) we going to renew our vow. Relax it neither, so mum (and sister) there no need to panic.
But I went down a rabbit hole earlier this week, where I spent a good few hours looking at wedding blogs. It seems silly, but even though I've been happily married for 6 years; I still like looking at wedding dress.
There seems to be a general census, where once you had the wedding of your dream and worn the perfect dress, you should forget and ignored anything wedding related.
But I'm not like that. I'm sure you guessed that by now. I still like looking at anything wedding related, especially the dresses. Who doesn't like looking at pretty wedding dresses?
You see, it kind of brings back memories of when I was choosing my own wedding dress. It was the most fun I ever had. Especially as I kind of designs the dress from scratch.
This is me in my wedding dress.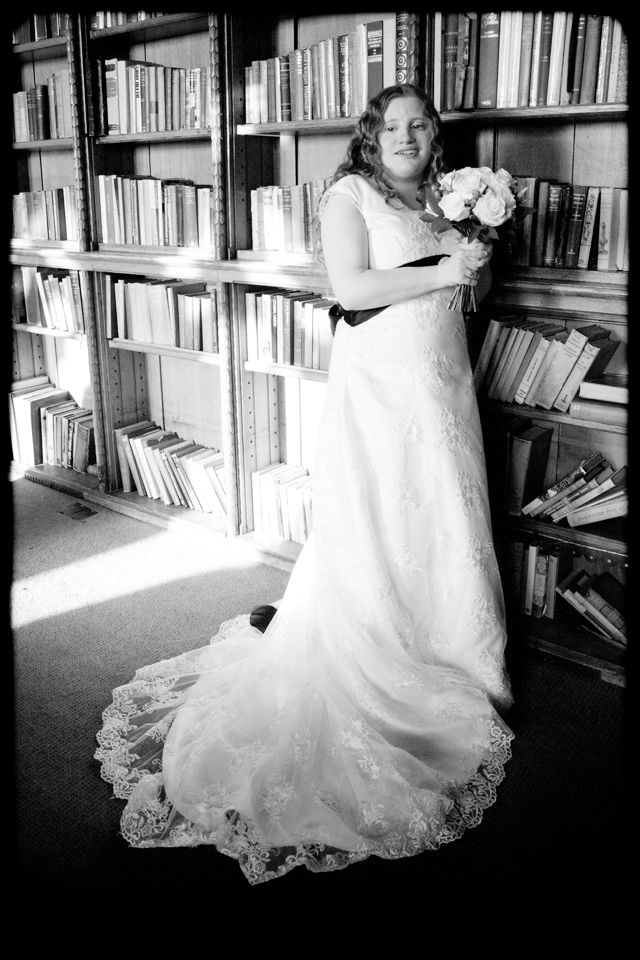 Ok, I didn't completely design it from scratch, but I had an idea of what I wanted and went from there.
In my head I wanted a bohemian (it that word again!) look, so I was after a bohemian dress. But I didn't want a white dress – I wanted black. Yes, a black wedding dress. The whole idea of a having a white dress for a wedding seems so outdated and I didn't want to go 'traditional'. Plus, I think wearing an LBD can look sophisticated and kind of elegant. But to cut a long story short, my parents and so was Richard's parents was up in arm about the whole idea of a black wedding dress (a sign of bad luck!) that I ended up having a white dress. But I did have a black strap around the middle, kind of like a ninja belt.
While I wasn't allowed to have a black wedding dress, I still had the freedom to do whatever I wanted.
One day I was Googling and I came across a wedding designer that lets you designs your wedding dress to your own specification. Bingo, as all the other wedding dresses I saw – didn't really suit me or had the style I was looking for.
So I could essentially design a dress from scratch. This wedding dress designer let you choose the fabrics for the dress, the neckline, whether to have sleeves or not and so on.
I had a rough idea of what I was looking for. But I must admit I had no clue on the fabrics of the dress. It's not something I really think about when looking at a dress. Unless it a fabric's texture like velvet or silk, something that stands out. But usually, I look at the design of a dress.
So yes, I suddenly found myself delving into the world of luxury fabrics. And let me tell you, it a whole different ball game.
For starter, anything to do with luxury fabrics brings up an array of choices.
Silk fabrics, think Meghan Markle wedding dress which was silk fabrics. A dress that drapes over a person figure. Then their lace, which is something Kate Middleton wore for her wedding dress, giving a romantic feel. And another luxury fabric is satin and chiffon, which can give a 'fairy tale' dress look, especially if it has a tulle skirt.
My dress was lace with a little bit of silk, and to give it that little extra it also has floral embroidery. And oh not forgetting the black ninja straps.
Overall I managed to design my perfect wedding and achieve that bohemian look I was after. When faced with the prospect of actually designing your own wedding dress, it can be really overwhelming and often there was time went I just blanked out.
The wedding dress designer was amazing and really helpful. Gave me all the proper information on luxury fabrics, and knew what kind of look I was hoping to achieve. Also, she was with me at every step of the way which helped when I was overwhelmed and just blanked out.
So my message is when choosing a wedding dress; design one of your own. And to help things move smoothly, have an idea of what you want. Maybe draw out a rough sketch and start thinking of what luxury fabric you would like on your dress.
It was the most fun I ever had and if I could do again (don't worry, I won't! You can breathe easily Richard!) I would.
So whether you're married or not. How would you design your perfect wedding dress?  – or if married? If you could go back in time, how would you redesign it?
(Written for Tissura)