While I was in Bath last week, on a Dove Summer Revived Retreat. We had a cocktails making class at our hotels. Let me show you flowers and cocktails.
When Dove invited me to Bath for an exclusive Summer Revived where I would be staying in an exclusive 5 stars' hotel and have a complimentary spa treatment. Sound amazing and I was not going to turn it down. This is in aid of their new Dove Summer Revived Body Lotion, which I will be talking about in due course.
While on this amazing summer retreat, the hotel bar gave us a complimentary cocktails making class. Normally I'm more a drinking cocktail kinda girl – rather than a mixologist. And when I do mix cocktails, I tend to do a lot of creamy cocktails where its involved ice cream, Baileys and lots of chocolates.
Overall I'm not a mixologist and I shameless know nothing about mixing cocktails. Well not the proper 'professional' way, at least. I just sort of just making it up as I go along and hope for the best.
So I was keen to take these complimentary cocktails making class and see how to shaken and not stirred a martini or to perhaps just learnt a few tips for myself.
This class involved making a lot of fruity cocktails. So imagine a lot of variety of mojitos.  We all had our own workstation which involved a cocktail shaker (which I mistook it for a glass!) and other bits and bobs you'll need to make a cocktail.  We also had a table laid out with fruits and plenty of alcohols.
To decorate our workstations, we had flowers which brighten up the class.
To get the party starting, they served up a fruity champagne which was very nice – I'm not one to like champagne.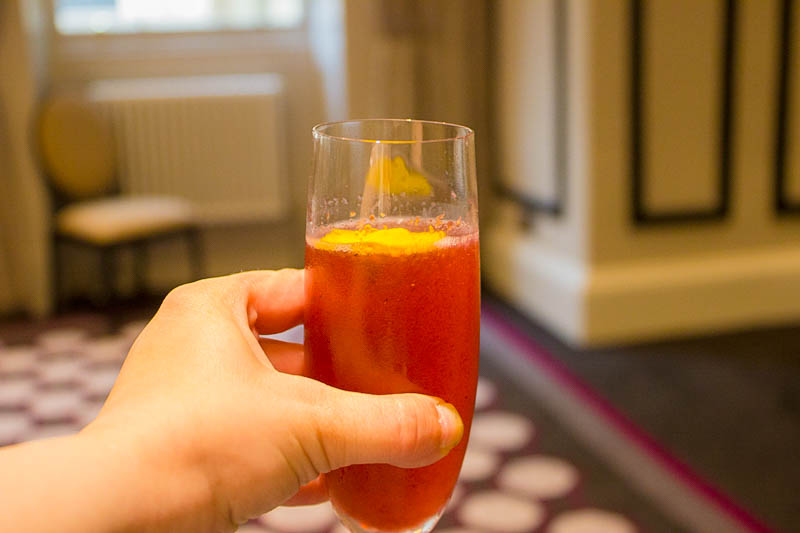 We had a head mixologist helping and showing us the rope. Like I said, my method is making it up as I go along and hope for the best.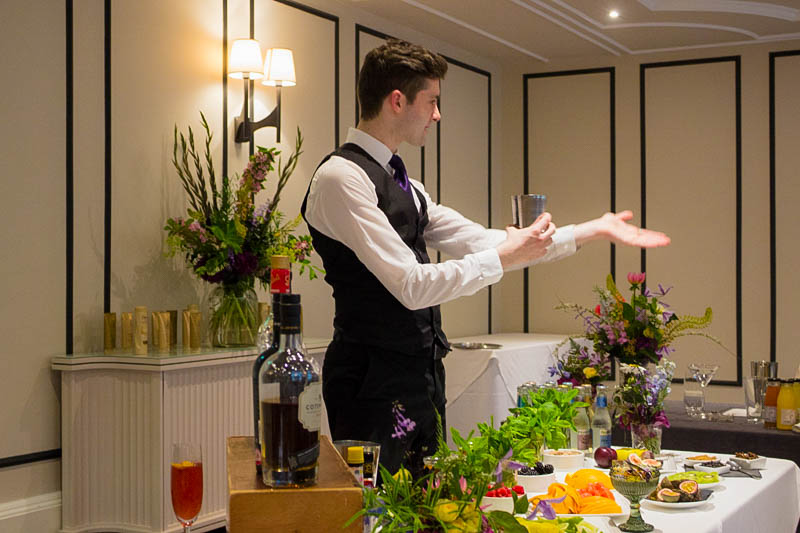 My first two cocktails – well it was typical me. In the sense when I put things into a glass and then just hope for the best.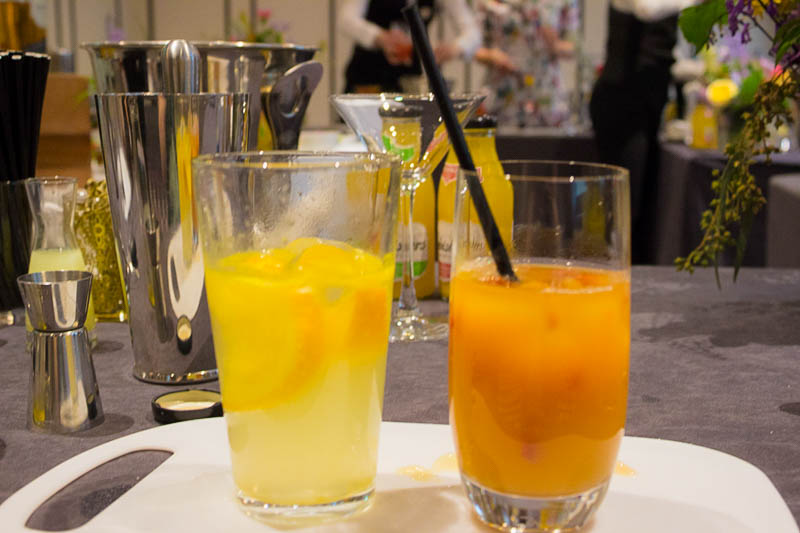 From left to right, let me introduce you to Disaster number 1 and Anna's Fruity Pineapple Dream.
Disaster number 1 – well it just didn't mix as well and it was supposed to an orangey mojito and yeah it didn't taste great.
However, Anna's Fruity Pineapple Dream wasn't too bad – it was a step up. Not perfect. It did involve pineapple rum, strawberry, and pineapple juice. My method involved pouring all the ingredient in a glass, mash up the strawberry and give it a good stir. And wholia. I think to make it a little more perfect I should have sieved it. It did take very nice and refreshing.
Now my last one, which I called it: The Blackberries and mint combination. This one the mixologist actually helped me and told me the correct way on how to mix a cocktail. This one has blackberries, cinnamon, mint and pineapple rum. Very refreshing.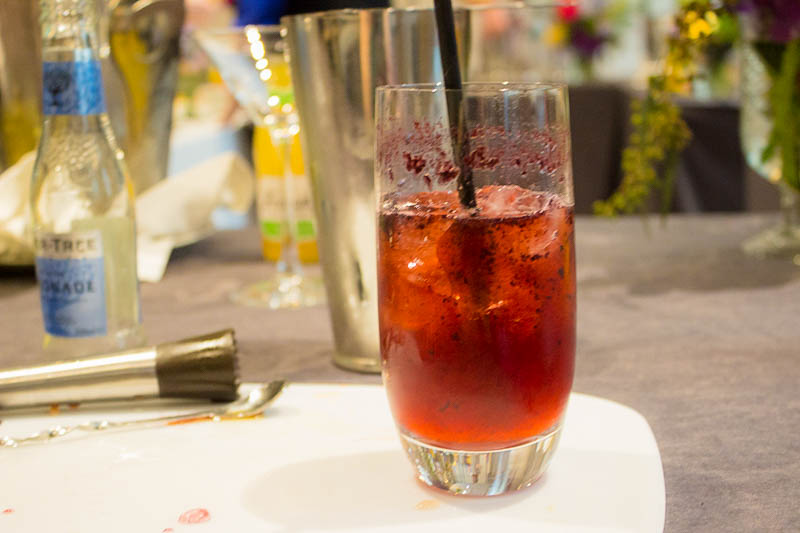 After drinking my blackberries and mint combination I was quite drunk and felt a little sick. So I spent the rest of the day drinking water.
Did I learn anything from the cocktails class? Yes, you can't always go willy-nilly with cocktails ingredients. You can't always do what I have always done in the past – make it up and just hope for the best. There are a system and a way to do it – needless to say I didn't quite master it.  Maybe I just need more cocktails classes in future.
Thank you for the hotel for giving us a complimentary cocktails making class.
Have you ever taken a cocktail making class, were you a little more patience than me?