Let me introduce you to Pip Howeson, a London based bespoke designer and tailor. Originally from Devon, so a country girl at heart, she has moved to London to embrace new opportunities. These so far include tailoring a jacket for Stephen Fry and also working with another tailor/designer Jack Wallis, it was after this experience she decided to set up her own business. To help her on her business and design visions she enlisted the School for Creative Setups programme for assistance and had an additional investment from Doug Richard and Chris Ingram.
It was clear after talking to her that she was passionate about her designs, her tailor made coats and jackets are made to last you for a lifetime – not something you see with something like Primark where it is mainly disposable fashion and badly stitched. Her designs took inspirations from the 1950s when clothes were made to last and to fit your figure; this is Pip's nostalgic look at the relationship between the clients and the dressmaker from that era. Pip feels like those days have gone and wants to recreate that experience in a modern world.
She recently opened her first shop on 17 Rugby Street London but her workshop is based in Kingston, it's a small inviting shop where clients can freely discuss ideas and can get sample of fabric that will be used on the finished product. This small shop does recreating the 1950s relationship between the dressmaker and the woman who is wearing the garment, it a nostalgic experience.
If you have money to burn, as we are not talking about high street prices here but bespoke designs; but want something that will last you a lifetime or have an soft spot for British tweed then Pip Howeson is your designer.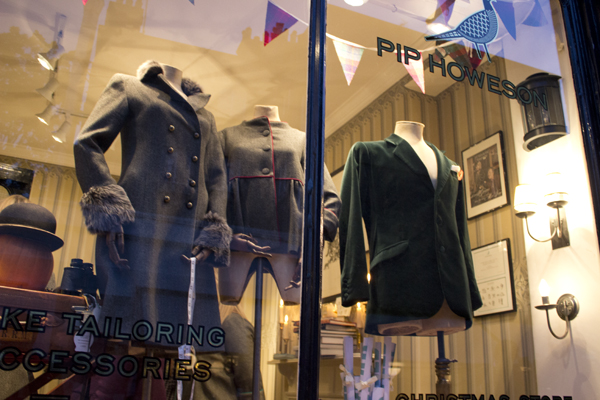 (I'm available to do a personal designer profile – please feel free to contact me.)