What do you get when you mixed a Mexican meal favorite with another family favorite? You will get a chicken fajita casserole, off course. Here is how to cook a chicken fajita casserole.
Over the weekend I was bored and hungry. And I was in the mood to cook a dish that I hasn't had for a long time. It was one of those moments where you are looking around the kitchen and think to yourself what could I cook here that will feed my hunger!
God there nothing worst when you are hungry and you don't know what to eat!  Those fortunately this time I did knew what I wanted to eat. My favorite meal/dish in the entire world – Chicken Fajita!
Who here doesn't love this firm Mexican favorite meal? If you say you don't, you will be on my bad list and I will scorn you forever. Oh I'm only kidding. I won't hold it against you.
But for me, I am addicted to chicken fajita. I could eat it for the rest of my life if I could. It my favorite meal in the entire world. One of the reason why I love this meal so much that it so easy to make. As it a fun dish where you can choose your favorite filling and personalize your chicken fajita wrap however you want. For me it plenty of refried beans with a big dollop of salsa – yum!
However, this time I wanted to take it one step further. I cook fajita so often that I could do it in my sleep. I just felt I need to do something different.
That was how I came up this dish – Chicken Fajita casserole. I hasn't done this for a while so I kind of thought it was about time. I came up with this idea one day when I was experimenting, so I already knew I was onto a winner here.
So folks, if you love chicken fajita and want to take it one step further – then please read on as I will explain to you on how to make this.  Here how to cook a chicken fajita casserole.
What you need:
Corn Tortilla
Chicken breast chunks
Cheese
Salsa
(optional) Beans
(optional) Chili sauce
(optional) Sour Cream
How to make it:
Start to put the chicken breast chunks in the pan to heat up and to start cooking.
While the chicken is in the pan, laid the base layer with the corn tortilla in the cooking/casserole pot. Feel free to sprinkle some cheese here.
Once you are satisfied that the chicken breast chunks are cooked, transfer it to the cooking pot and spread it so it fills all available space.
Now add the sauce, I chose chili sauce but you can use whatever you want.
Give the sauce and chicken a stir, making sure the sauce covers all chicken chunks.
Feel free to add any extra ingredients and personalize it to how you want.
Once you are happy and got it just right, it time to close it by putting on the top layer.
You do this by adding another layer of corn tortilla delicately on top of the main area (where the ingredients are).
Feel free to sprinkle more cheese or salsa on top of the top corn tortilla.
Pop it in the oven for 25 minutes with the cooking pot lid on.
Keep checking to avoid burning and too see the corn tortilla crisping up.
Once you are happy, take it out and let it cool down.
Cut a slice or take a serving spoon and dish on a plate.
Serve with sour cream or extra salsa.
Bon appetite.
There you have, how to cook a chicken fajita casserole. Let me know if you will be making this. A really simple meal when you are bored and hungry.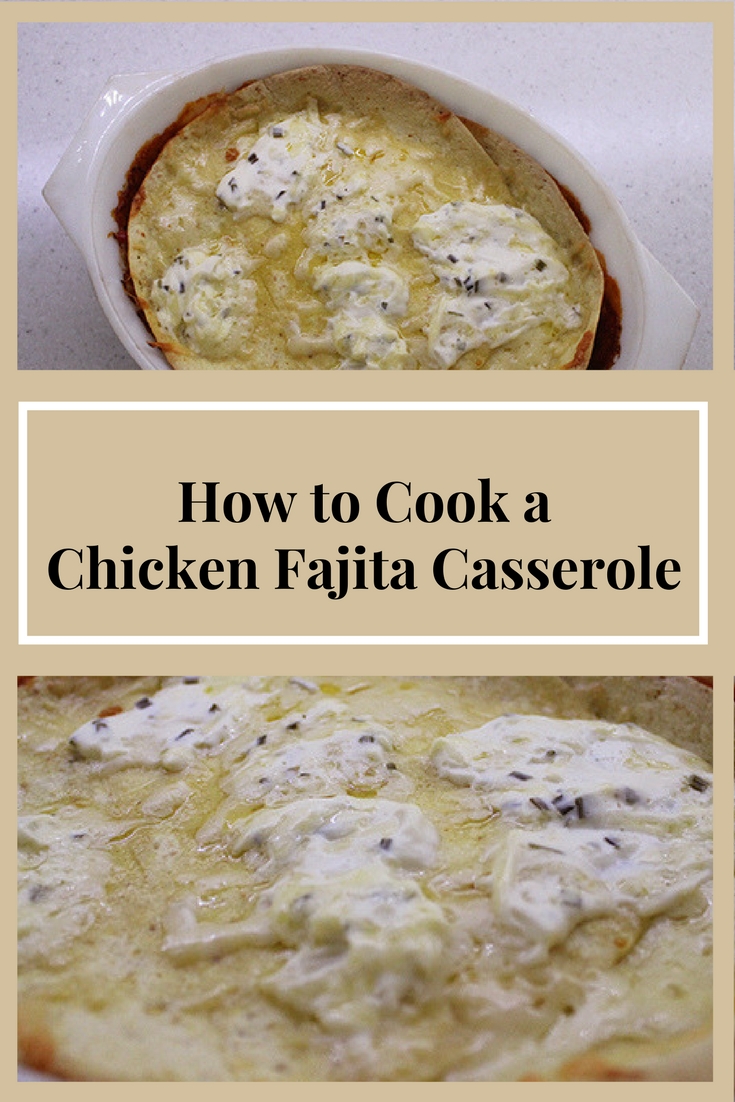 Save
Save
Save