Spring/Summer is about to get even more fruiter with this Collectif watermelon swing dress.
Remember how I was saying about how there is a pineapple trend this spring/summer? Well folks it about to get even more fruiter with this gorgeous Collectif Watermelon swing dress. For me it loves at first sight, how could I not love this amazing dress.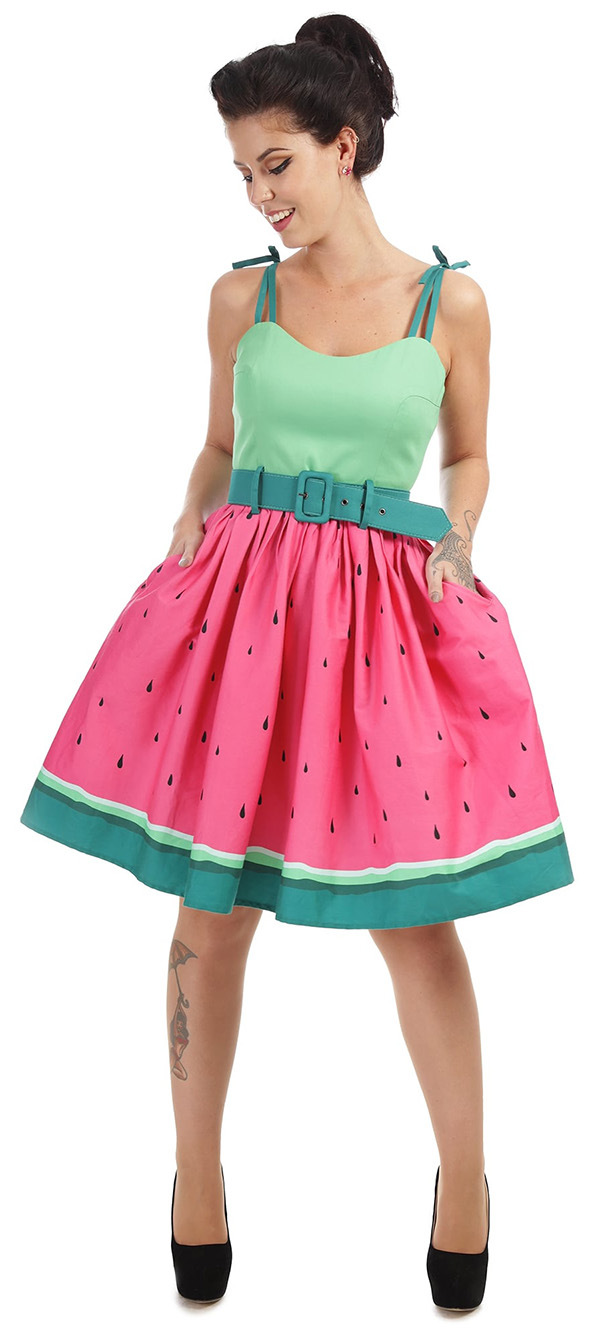 What with it adorable pink/reddish skirt that has little dots to make it look like the inside of a watermelon and the green bodice and little bow straps. This is my perfect spring/summer dress, no need for me to hunt any more.
Here are what Collectif say about the dress:
Our Jade Watermelon Swing Dress is a fruity dream! Her bodice is a bright green shade, with classic sweetheart neckline, princess seams for perfect fit, and dark green double shoulder straps with bow detail. She also has a gathered skirt with side pockets, a dark green wide waist belt with metal eyelets and spoke, and a center back zip. Her skirt is mostly Watermelon pink, with black pips, and a multishade green rind. Why not pair with our tropical inspired accessories or fruity cardigans?
Having a fruit theme on clothing seem to be a big trend this year – not that I'm complaining. I already adore the pineapple trend. So this Collectif watermelon swing dress is bang on what I'm calling the 'fruity trend'.
My advice is to wear this dress while drinking down a refreshing watermelon cocktail on a warm spring/summer day. Wear this while having a picnic or having a sunset walk with the dog along a quiet park.
What more can I say about juicy dress. It the perfect dress to wear for spring/summer.
Are you a fan of this Collectif watermelon swing dress? Will you be hitting the fruity trend this season?
Save