I have been getting a lot of really nice comments on my current blog design, so I thought it would be appropriate to tell you my blog design secret. Well it no secret really and if I'm honest, it has taken me years to get it just the way I like it as soon as a design goes up –I would want to change it straight away. However, with that said I'm sure you're sitting at home (or wherever) thinking ok what make a blog design good and one that you will be happy with? After all you want a blog design to shine and to show off to all the four corner of the globe, if you're not happy with it – it will reflect back into your readers.
I will start off by saying, you don't need to hit on any graphic art student or web designer (unless you know, you want too or you already happen to be hitting on a graphic art/web student/designer – then good for you!) to perfect your blog design. You don't really need to know html or have photoshop to start off with either. But having photoshop and some knowledge of html does help however and will benefit your blog design, but they are not important so don't fret if you can't get hold of the software.
So what is the great secret of my blog design and how can you achieve getting your blog looking like this?
I kept it clean
Remember those god awful days of Myspace design with the sparkly gif background and the unreadable black background? Yeah they were pretty damn awful wasn't they? It seems to me that blog readers and bloggers have lots and lots of different preferences on how they like all blogs to look, for a few selected few they can't wait to voice they opinion at you. They would tell you that purple is such a bad colour to use as a header (I whole heartily disagree – purple is my favorite colour after all!) and to never use yellow text or background (yeah ok I agree with that one). There is one thing that every bloggers and blog reader do agreed on – the layout should be clean. I completely agree with this statement and that why I always kept my blog design clean. Urgh let be honest if you see a cluttered template and sidebar with so much social media widget known to the internet, you will click off instantly.
Remember, readers are here for your content – not just for the design.  So if you want to stand out in the blogging crowd then keep the blog design clean, it might help to try and put yourself into the reader's shoes and see how it look from their perspective.
I kept an eye on my stats
My blog design really was inspired by me looking at my Google Analytic stats and from seeing which posts was the most popular, and also what best on how to get my readers to read older posts I have written in the past. What I mean by this is that I looked at which posts was getting the most views. Here is an example: My The Nostalgic Series blog series posts always comes up on my stats as the most popular so rather than get my readers having to trawl though hundreds of unrelated posts I put it on the front page with 4 of the recent posts and a link to it category. That way if someone only comes to my read my The Nostalgic series blog posts, it'd be easier for them to know which posts are the newer one.
That what inspired me to change my designs from the basic blog design where it posts after posts to a more magazine format. I simple looked at my stats and changed it to suit my readers.
I kept it compatible
If you are like me and read blogs on their phone or on a desktop computer, then this blog design secret is important.
I know that a lot of bloggers make the mistake of testing their blog design only on the browser/monitor or device they use personally, completely forgetting that their readers are using a different browser, differently sized monitors and different device to them. I've seen this so many time and often when I point it out I get my head bitten off.
So making your blog design compatible seem really hard, and trust it is really hard. At time it can be a pain in the neck – especially if you're the one coding the site from scratch. Luckily, when I buy my blog design it usually come with compatibility already coded so that does make my job easier. It a good thing as well as 60% of my traffic does come from mobile devices.
When I'm looking for a theme, I always, always go for a responsive compatible design. As, I'm sure you now this already but responsive themes change size so that no matter the size of the screen you're viewing the blog on, it will still display properly so it helps not only you but your readers.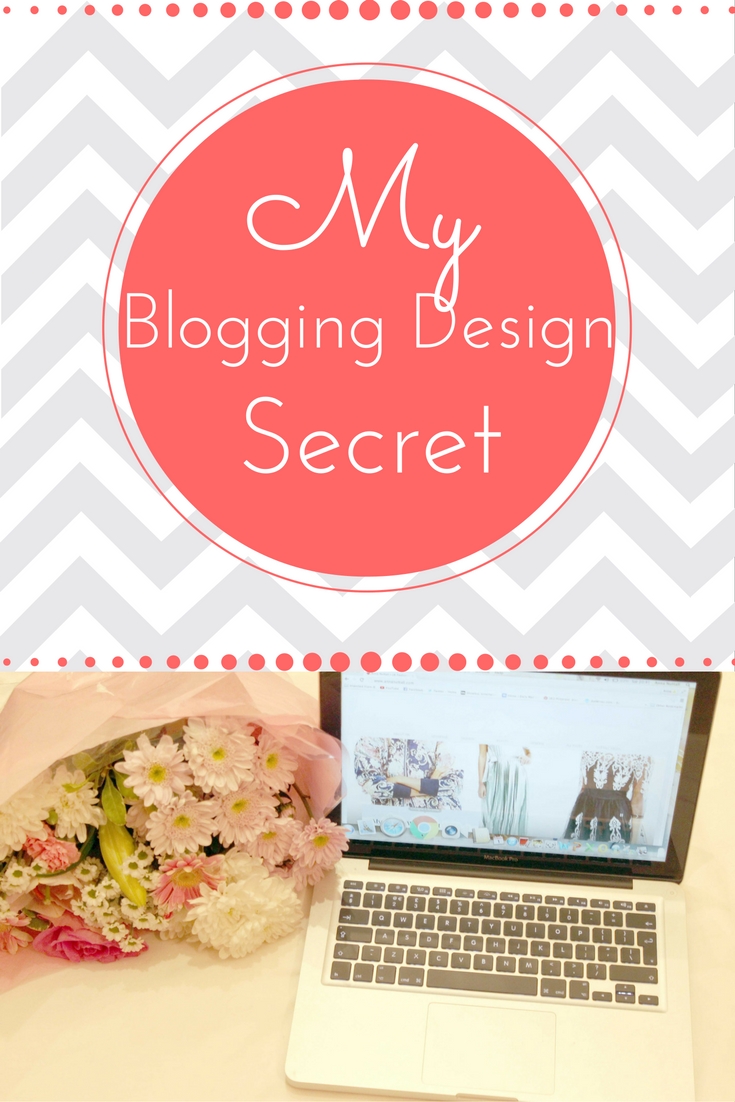 I Gave it a logo
I get lots and lots of comments from people say they just love my blog logo. It is lovely isn't it? I'm proud of it – however I can't take the credit for it as it was design by an amazing graphic designer (where I can't find her website anymore), but I talked her through how I wanted it look. It gives my blog a distinct look and make it stand out. And as a blogger with all blog designs – you want to stand out from the crowd. Having a logo give it character and reflect to what the blog is about.
If you can't design a logo yourself as you're not a graphic design expert, then don't worry as you can find hundreds of pre-designed logo on places like Etsy and Facebook. I have in the past designed a few headers/logo for bloggers to give them a helping start, if you ask I'd be happy to help you on this.
I kept it consistent
One blog design to rule them all, and I also feel this last secret is one that should really be left unspoken and sound so god damn obvious. But I will bring it up. I kept my blog design consistent across all of the pages of my site and it have given my blog a more organized feel. So my advice is by choosing the colours you want to use for your text, logo, headings and then use them consistently throughout the blog. If you got a purple logo but suddenly decide to change all the link to yellow – that will look weird to your readers and most likely will make them go off quite quickly. Remember you have to sometime see if from a reader's perspective.
So those any blogging design secret. Just so you know my theme is Pandella and It isn't cheap and it a bloody pain in the neck to config. But still It work well for me so I can't really complain. Do you have any blogging design secret?
Save
Save
Save
Save