Another month is finishing, and now I feel is the perfect time to do my February Blog Traffic. Here how I achieved my 12,000 page views this month.

This month went off like a firework or a rocket flying out of space. I was off course hoping to see an increase in my blog traffic, and indeed I was not disappointed.
My February overall blog traffic was 12,000. This was better than I anticipated at the start of the month. As I said last month, I was hoping over the course of the year to see a traffic climbed. Look like I'm on the right track.
Here how I did it:
My top 5 most popular posts from February:
I think the majority of my popular post from this month is a real mixtures of different topics. I always try to keep annanuttall.com a big brainstorm of topics that interest me – and hopefully will interest you as well. If something doesn't interest me then I don't write about it.
How did people find my Blog?
Well you know I was saying about fireworks and rocket going off. This month was whole different ball-game.
Stumbleupon (SU)
SU went off like a rocket that just flew into space and beyond. I said I will work more on Stumbleupon this month and boy what a result I got.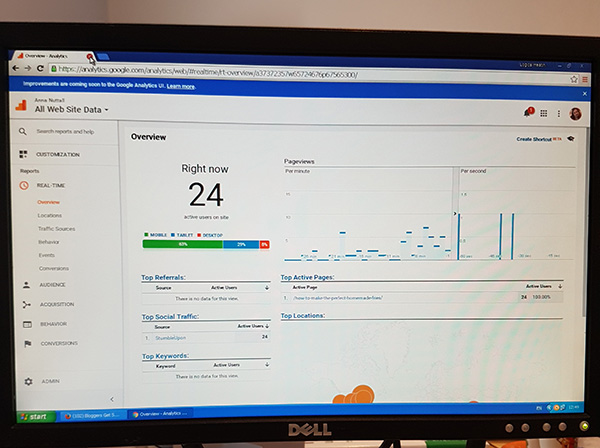 The picture was something I captured when glancing at my Google Analytic real-time. Yup you are seeing that right. That was 24 people on my site at that time. And it all came from SU. How amazing is that!
I gave it my full attention and I didn't ignore it. It really helped pushed up my February blog traffic. Here how It can work for you.
It really simple. Every time I publish a new post I simple add it on SU and then stumble on a few pages. I also add my link (which has a SU button) to a few Facebook SU threads which allowed people to then add my site to their SU. So you get not only traffic from your own SU but from other people as well. Don't just add your link and wait for the traffic to come as it more likely won't.
Pinterest:
Pinterest was like a firework this month. I noticed a gradual increased last month in term of blog traffic. But wow Pinterest this month went wild. I heard from other bloggers that Pinterest was a good traffic source – so It been my aimed to work on it. What an amazing result I got.  This month I added all my blog pictures to appropriate boards and to Pinterest groups. I re-pinned various other images. Joined in with Pinterest Facebook groups and just re-pinned images that I liked.
I will be writing a tutorial on how you yourself can achieve such amazing result for your blog in the coming week.
Organic searches
My organic searches climbed up as well this month. This is a brilliant result as once again I've been working hard on my SEO. What I did differently this month was to incorporate Google Keyword planner into my SEO strategy. It helped me find certain high leveled keyword that will be beneficial. If that sound confusing, don't worry as I got a tutorial planned on how it can help you.
To help you increase your site organic searches it might useful to read my post on how to make your blog more SEO friendly.
What didn't work in February:
Blog links parties – that not to say it didn't work but just not as well as I hoped. I still got traffic but just not a huge amount. I'm not sure if it works while keep adding my site to various blog links parties.
I also failed on my Facebook page again. It was only in the middle of the month that I managed to get a new blog post published onto my Facebook page. I need to work on that page.
Goals for March:
Write more on my Facebook page – make it a fun place to talk to all my readers.
Write more Marketing & Blogging bog posts.
As my site crashed this month (a scripted cause it to crashed), I have to redo and sort out the backend of the site.
Write more blog posts.
Hopefully I will see more firework and explosion. It can get only get better and brighter.
Save
Save