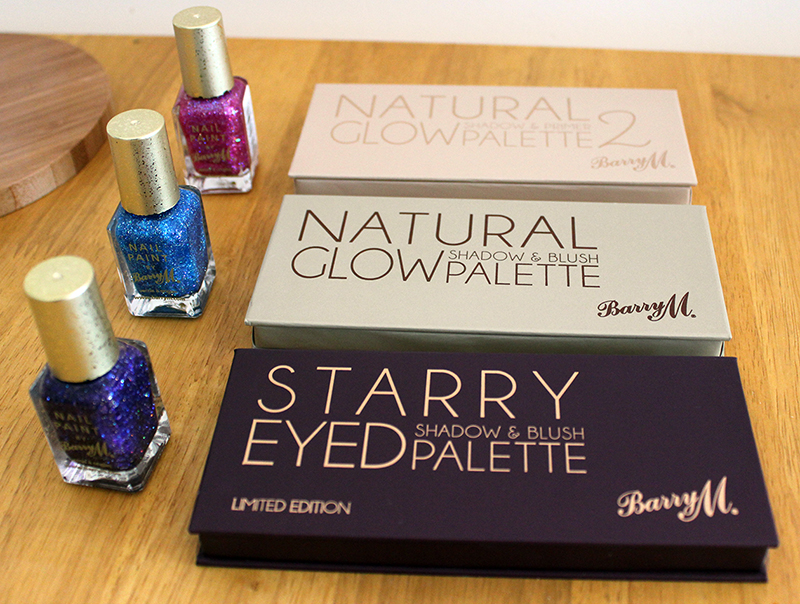 Every since I first saw these in Boots, I knew I had to get my hands on them. Barry M have some gorgeous new eyes-shadow palettes this season, I've been really impressed and if I had the money I would buy the whole lot.
I had some Boots points and I thought I treat myself as they are also on the 3 for 2 offer so a very good deal at the moment.
When I brought them, the lady in the shop said it been a best-seller and they are running out of stock, show you how popular they are.
I also been after some new eye-shadow palettes for ages now as it have been missing from my make-up collections.
There are the:
Starry Eyed  Shadow & Blush Palette (Limited Edition)
Natural Glow Shadow & Blush Palette
Natural Glow Shadow & Primer Palette 2
I love the colours and I love it has a mirror, little brushes and come with a blusher or a primer.
I decided this season to be a little more adventurous and as well as having light colours – this time I would go with  darker colours as my hair colour is a little more darker then it was (check out my instagram!).
I also picked up some glittery nails polish while I was there (buy 2 for 3, how could I say no!), perfect if you're going to a Christmas party.
Anyway I can't wait to try these out and I'm super happy with my purchase.
Let me know if you have tried them and which one you like the best.