I have a pretty serious pretty dress addiction, just ask my husband and he will tell you. When I shop online for clothes, I always go straight to the dress section and then make an imaginative wishlist of all the pretty dresses I want. It was only a matter of time before my obsession found its way on here as a new series called A Change of Dress, is my special place for all of the lovely dresses that I'll find. I will be updating this every Saturday.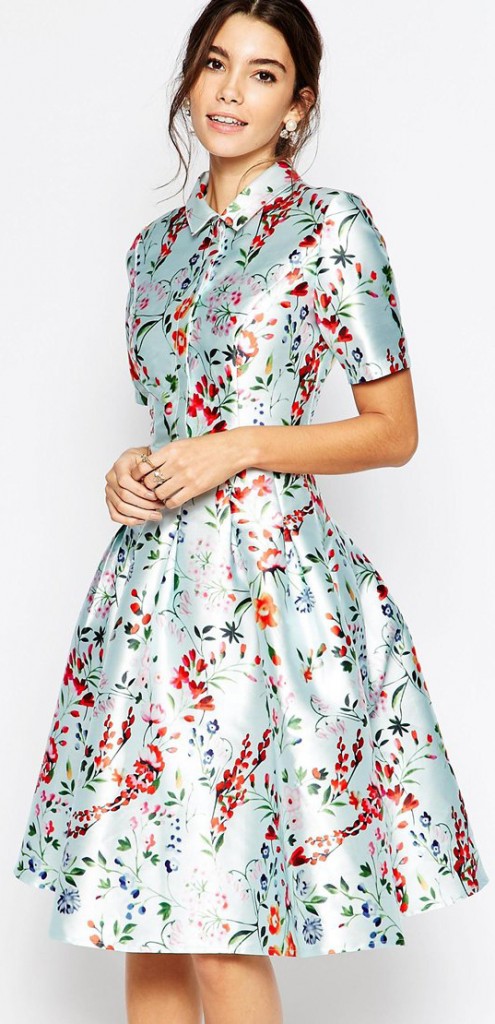 This is the part where I turn into a complete babbling mess as I'm in love with this amazing pretty dress. I know I say this every week but seriously look at how frickin pretty this dress is…I'm hyperventilating here.. I can't breathe as it's too pretty to be true.. As it does seem to carry it very own aura of pure loveliness. Once you seen it – you cannot unseen it (why would you?) as it just too pretty to be true. OK I'm hyping it up a little to much and I need  to snap down to earth (and maybe a reality check?) but when I first saw this dress I fell in love with it. This beautiful Chi Chi London Midi Sateen dress had that something different about it, I'm not sure it because the fabric is sateen or its because of the floral print but It have something unique to it.
ABOUT CHI CHI LONDON
If you're heading somewhere nice, Chi Chi London are your go-to girls when it comes to dressing up. Whether you're a Prom Queen, party princess or wedding guest belle, Chi Chi London is the ultimate in dress destinations.
If you are going to party soon and want to be crowned as the party princess, then this dress is for you. Complete this look with a cute clutch bag and some ballet plumps.
Chi Chi London Midi Dress on Sateen with Collar and Sleeves £60.00
Save