This is a starter guide on how to edit your photos professionally and quickly. Here is a guide on Photoshop Camera Raw Filter and how to have some professional clean photos for your blog.
Now I have been wanting to do some kind of guide or a blog post on photography for a while. But I keep having a hard time trying to think where to start. There such a lot of information of photography, it hard to pinpoint where the good starting point is.
I have also been hoping Richard would help me on this and perhaps offer his guidance and helps me make sure I'm writing the correct information. But every time I ask him, he keeps saying later. So we all know, later never comes. So that hasn't been great. But never mind, when I get to any real technical information on camera I might just force him to help me by locking him in my office.
So yes, starting point and getting help, has been the reason on why I haven't done a post on photography. But that's going to change – as I'm finally going to do a basic guide on Photoshop Camera Raw Filter.
Without further ado – let get into it as there is a lot to cover.
Wait a minute – a little note.
I'm by no mean an expert or a professional.
I'm going to be showing you the most important aspect of the Camera Raw filter. The tools you will need the most.
I won't be going through the entire Camera Raw Filter as there is a lot to cover and quite frankly a lot of tools are not important.
Step 1:
Camera:
The first thing first is the camera. I'm talking about a DSLR or SLR camera here. My two main cameras are Canon 600d and Canon 6d (I also technically have a 5d mark ii) *.
*(why do I have so many cameras? The Canon 6d and 5d mark ii are Richard camera – and all I have is the Canon 600d. We share them and if he isn't working, then I get to use his cameras.)
(Feel free to read my camera kit)
One of the starting point when having what I nicknamed 'big girl camera', is to know whether you are shooting in jpg or in raw.
This all depends on what you are using your camera for. If you are shooting something really quick and just want to upload it straight away, then jpg is fine.
If on the other hand, you are taking your time and making sure everything is perfect. While knowing you can tweak it later on Photoshop. Then you might want to use raw.
Here's a website that can explain the two formats better than me.
For this guide, we're using the camera raw format. To check the two format, go to your camera menu and within the sub-menu, there should a quality option, click on it and it should bring up the different formats options. It might be different on different camera – but generally, have a good look round your camera menu for it.
Shooting:
Right, you're now shooting the photo. I won't get into the technically jargons quite yet, as I will do that for another post. So this section is brief and you using the camera.
Once done shooting. Take the memory card and put it in your drive for your computer.
Step 2:
Adobe Photoshop:
I'm sure most of you are familiar with this editing program. It the most common and often the most used editing program there is. It a powerful editing program and let you do pretty much anything you want to do with your photos or images. For me personally, I would be lost without Photoshop.
Now Adobe Photoshop to buy, cost a bomb. I'm not kidding, it cost a fortune to buy. So it isn't cheap. But don't fret – if you are interested in using Adobe Photoshop and don't want to fork out a ton of money. Do what I have done. Pay a subscription service.
Let me quickly explain. To make the program a little more affordable, Adobe has created a subscription service for Photoshop. For £10 a month you can download the full version of the editing program and use it whenever needed. The subscription is under 'photography' as while as getting to use Photoshop, you also get to use other Adobe programs such as Lightroom and Bridge.
More information on the subscription is on the Adobe website.
Step 3:
Loading the images:
Going back to step 1 and put the memory card into the drive for your computer. This is what I do and this is a sense my own step.
I tend to open up my files explorer, transfer the files to my computer hard drive. So that way I'm not working on my memory card.
What I tend to do is look at my photo files using files explorer. Now my computer which is a PC and has Window 10, the latest update. This lets me actually preview the raw files in my files explorer. Now I know some Window editions might not let you preview and the photos files will look like it has broken. It isn't – Window just doesn't have the function to preview raw camera files.
No worries, as you can use Adobe Bridge. A file explorer basically for photos. This should come automatically when you get the Adobe photography subscription. Bridge will allow you to view your photos files. Bridge also has a lot more function but I'm not getting into that today.
Opening the images:
If are using Bridge, then you just simply click on the image and Photoshop will automatically open. If you are using Window files explorer, simple rick clicks and open Photoshop.
When you click on the image, Photoshop camera raw filter should have popped up. If it doesn't – for whatever reason. Then simply go to filter and raw camera filter on the menu.
Right now you should be into the actual part of Photoshop camera raw filter.
Step 4:
Image:
For this part of the guide. I'm using this image.
So everything I will talk you though will be based on one image and I will be basically editing it from start to finish.
Right – here is the main screen of Photoshop camera raw filter. This is the first thing you will see when it opens up.
Step 5:
The Main image area:
The first thing you will see is this.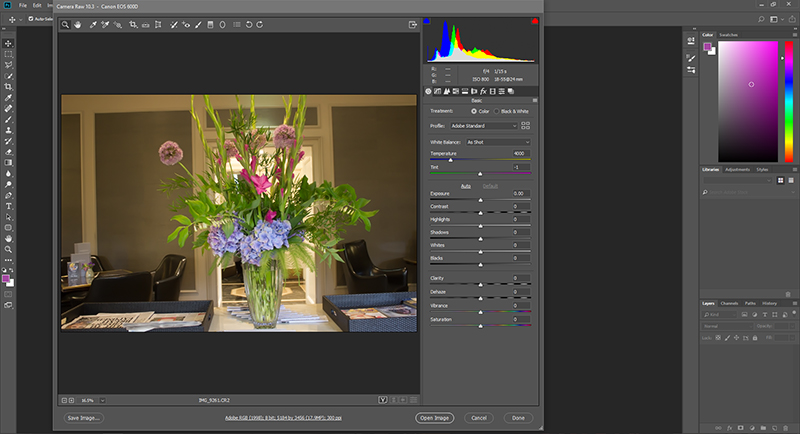 A big box will pop up – and this is the main part of the Camera Raw Filter.
Top Bar which is at the top:
Zoom: So you can zoom into your images.
Hand: When an image is zoomed in – you can grab the image and move it around.
White Balance Tool: It will change the photo temperature and tint.
Colour sampler Tool: This lets you change the colour of a specific part of a photo.
Target Adjustment Tool: Edit one part of the image.
Crop Tool: This lets you crop the photo as you might not want the full image.
Straighten Tool: This act as a ruler and let you straighten the image, if it uneven.
Transform Tool: This will also help you to even the image and make the image upright.
Spot Removal: This work like the healing brush in the main part of Photoshop.
Red Eye Removal: This will remove red eye from an image.
Adjustment Brush: This will make an adjustment and will try to make an automatic adjustment.
Gradient Filter: This will let you add a faint gradient to the image. It works best for outdoor photos.
Radial Filter: useful for adding a little sun flare. It works best for outdoor photos.
Rotate an image: This is so you can rotate the image to your desired specification.
The top bar stays put throughout working in the Camera Raw Filter.
The bottom bar which is underneath:
Zoom: Let you zoom in and out of the image:
Before & After So you can see how the image defer when making an adjustment.
Step 6:
The main editing tools:
Right on the left of the main image is what I'm calling the heart of the Camera Raw Filter. This is the main editing tools and depending on the image, this might be the only tools you will use.
Basic:
The pictogram chart: This isn't that important. It just changes the actual look of the photo.
Temperature: This lets you change the warmth of the image; the image might look too yellow – so you can change it to a more neutral blue colour.
Tint: This lets you adjust the overall colour of the image.
Auto and Default: This automatically makes the photo change for you. The Camera Raw Filter estimate how you want the image to look. If you are short of time – or just want to do a quick edit. I find Auto to be really useful.
Exposure: This change the exposure of the image. So you might have shot in low light, so you need to brighten it up. It fixes any exposure issue from you shot on the camera.
Contrast: Make the image punchier – ie: shaper.
Highlight: Adjust the light and the dynamic of the image.
Shadow: This can remove or adjust the shadow level. It good if you have a dark image.
White: Adjust the white balance of an image and once again it good if you got a dark image.
Black: This adjusts the black balance of an image and if it too bright, you can make it darker.
Clarity: If an image is out of focus or a little blurry, you can clear it up and make the image sharper. This is good if an image has text on it and it hasn't come out properly.
Dehaze: This adds and removes the hazy/smoky look to the image.
Vibrancy: This changes the vibrant of the image and it can make the image almost b&w.
Saturated: This changes the saturation of the image and can make it look sharper.
While we on the main editing tools, let me point something out.
Where it says basic, look for the 3 line on the right-hand side. If you make a mistake, then you can click on 'camera raw default' and it will take it back to the beginning.
Underneath pictogram chart, there are little tabs. These are more advanced part of the Camera Raw Filter. I'm not going to go through each of them. But I will point out: presets.
Step 7:
Presets: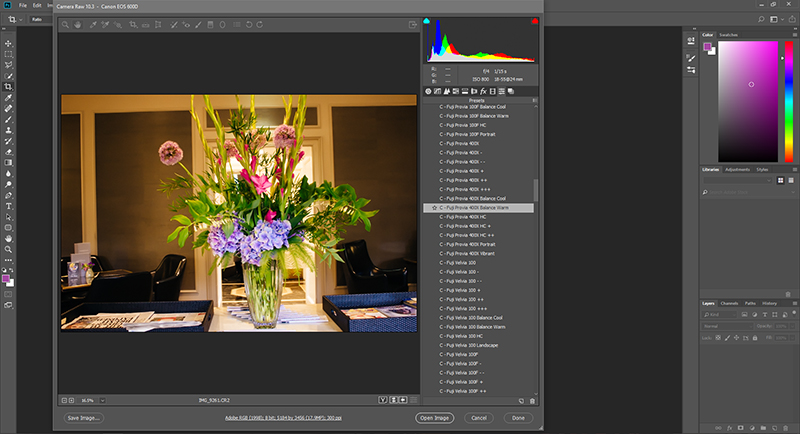 So Anna, how do you make your photo have that vintage film look? Well, the answer is really simple. I bought, downloaded and installed some Photoshop Presets.
I use Preset from VSCO. This is optional – but I like my photos to have that vintage film look. For me, I like to think it finish off the image.
Camera Raw Filter let you install the presets and it has its own little area where you can choose a lot of different options.
Step 8:
Finish: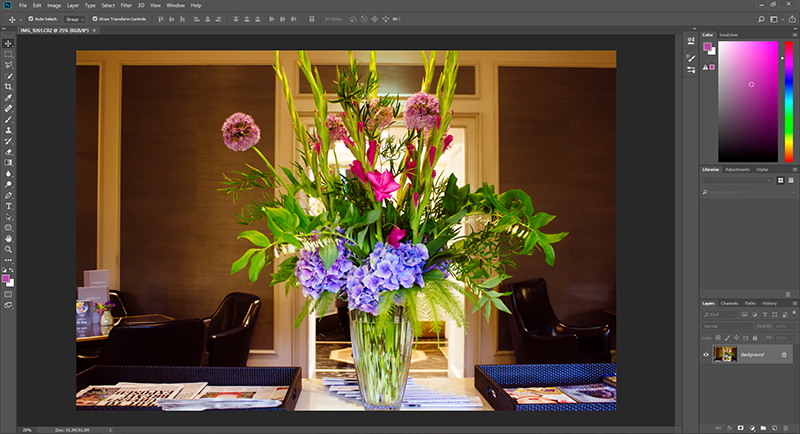 Once you are happy with your image and feel you made all the adjustment. If you want to save it, then click on 'open image'. Saving it will make the image a jpg. If you just wish to save the adjustment without losing all the data, then just click done.
Closing Segments: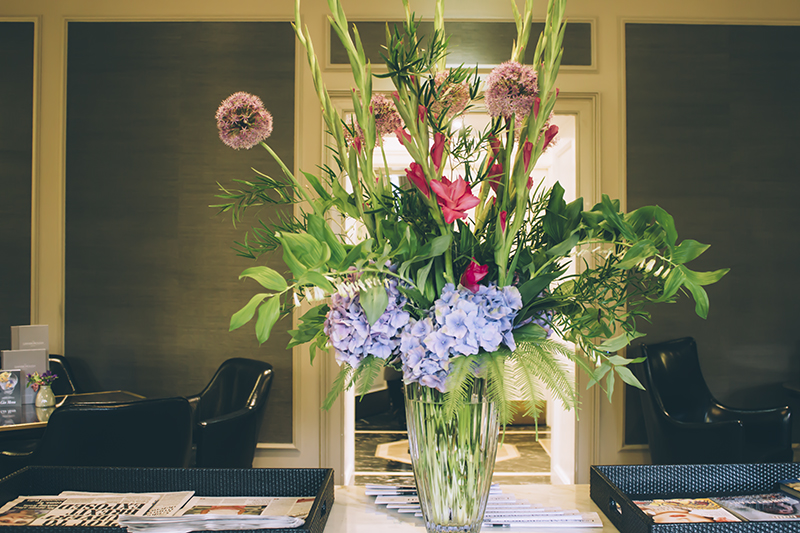 And you are done and have finished working on Photoshop Camera Raw Filter.
Here a few closing remarks:
My version is Adobe Photoshop 2018. It the latest updated version. So you might not have all the same feature as me.
You can do a lot of complicated and amazing stuff to your image in Camera Raw Filter. I brushed over the basic. If you want me to go over anything that I haven't covered. Let me know and I will try to help.
Some people consider presets 'cheating'. It entirely up to you if you use it.
Be aware that raw camera files do take up a lot of space on the computer hard drive. So it might be best to use an external hard drive to store your photos.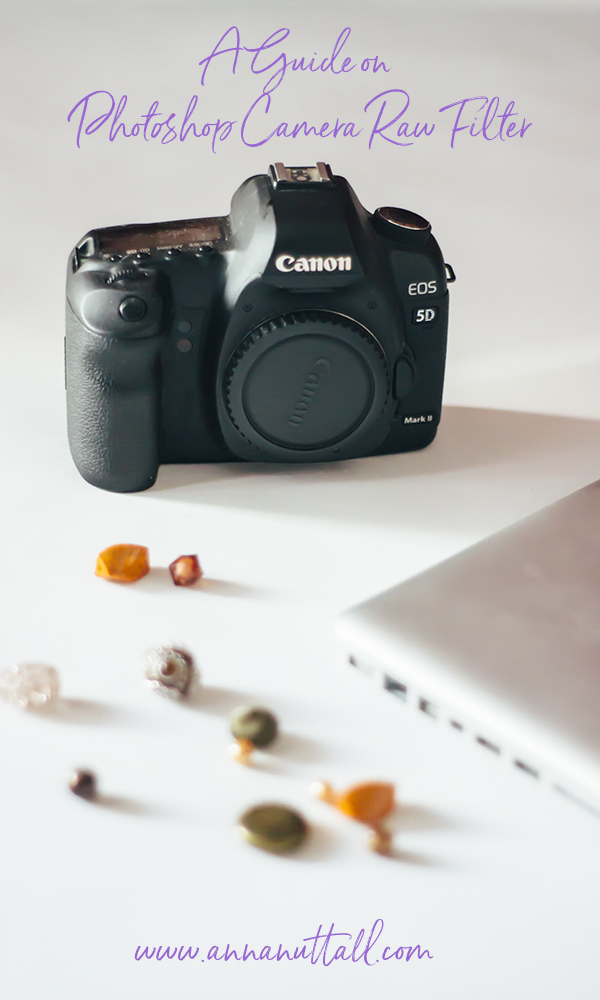 Ok, I will admit my brain is now fried. I will leave this guide as an open comments forum. If you have any question on this guide on Photoshop Camera Raw Filter, feel free to ask down below.